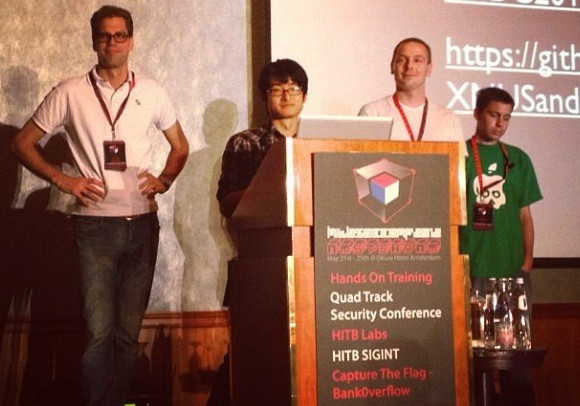 Earlier, we brought you the first part of a video depicting the Dream Team's discussions on Absinthe and Corona jaibreaks, at this year's Hack In the Box Conference (HITB). The discussions detailed the exploits used in Corona, besides other A4 jailbreak tools.
A report on iDownloadBlog notes that the second part has been put up live today with more interesting tidbits about A5 jailbreak exploits, besides one more little surprise towards the end. If you are familiar with jailbreak technical jargon, it shouldn't be much of a hassle following their presentation else you could skip to the last minute (51:30 mark to be precise) where some little surprise awaits you.
Irrespective of what you understood from the presentation, you will remember Dream Team's invaluable contribution to the jailbreak community over the years and given their exuberance blended with enormous talent, we expect many more jailbreak exploits in the future. You can watch the Part 2 video - Absinthe for iOS 5.0.1 - presented at the HITB conference (courtesy @pimskeks, @posixninja, @ pod2g and @planetbeing).
Fake Activator App Hits App Store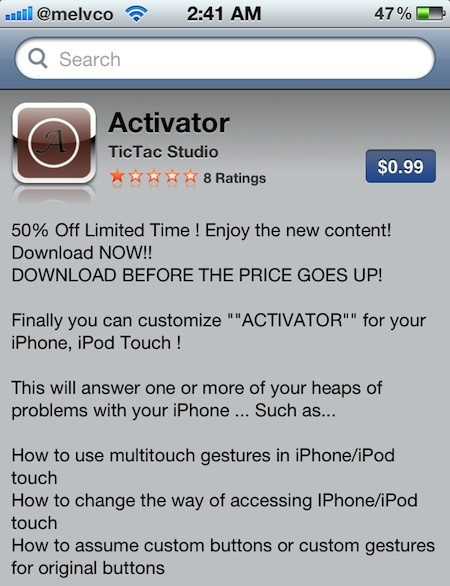 Last week, there was a fake Cydia app removed from the App Store. It now seems the trend of creating fraudulent apps continues, along with the desire to make fast bucks. It follows the pattern of "creating a crappy application, name it after a popular jailbreak app, and hope folks mistakenly buy it for $0.99", opines iDownloadBlog.
Within a span of a few days, the reputation of Apple's Digital download hub is at stake with a second instance of possible fraud. This time it is an Activator app imitating the popular jailbreak tweak developed by Ryan Petrich. The original app features toggle settings, besides supporting multiple tasks through customisable action and gestures.
The fake, however, clones the looks with stolen screenshots in iTunes lifted from Petrich's original creation. In a shocking revelation, the user community reveals it is just a low quality wallpaper-maker. This information is available for us courtesy XysMan, who tweeted the precautionary message on his page.
"Activator application on Apple Store :) http://itunes.apple.com/vn/app/activat ... the same name with Activator tweak of @rpetrich cc/ @iDownloadBlog," reads XysMan's Twitter message, along with the app's screenshot.