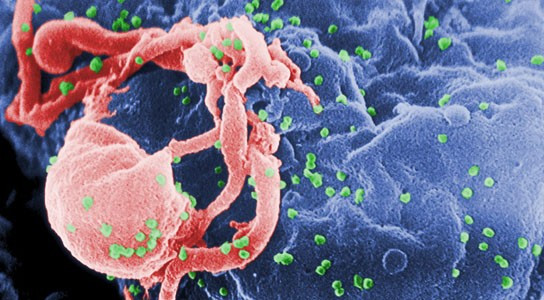 A new model suggests early treatment is key to curing HIV as the virus spreads in the body just like computer worms using a hybrid approach.
Treatment to block its spread through the bloodstream would fail as the virus would have well established itself using the direct cell to cell mode.
As per World Health Organisation guidelines to lessen risk of drug resistance, treatment for HIV should commence only when the infected person falls ill showing symptoms of immunity loss and not as soon as testing positive.
By reducing the amount of drugs taken over a patient's lifetime, drug resistance is delayed.
But the new study by researchers at University College London (UCL) found that HIV uses a double entry method using both the bloodstream and direct cell to cell route to infect.
This is also how computer viruses infect as many computers as possible.
Early intervention was required to completely block cell-to-cell transfer as well as to prevent viral spread through the bloodstream, said Prof Benny Chain, from UCL's infection and immunity division, the co-senior author of the research.
HIV infects the body's immune cells called CD4+ T-cells and as the disease progresses, the number of active T-cells in the body drops until the immune system cannot function correctly, and the person has full blown acquired immune deficiency syndrome or Aids.
Chain said: "I was involved in a study looking in general at spreading of worms across the internet and then I realised the parallel. They have to consistently find another computer to infect outside. They can either look locally in their own networks, their own computers, or you could remotely transmit out a worm to every computer on the internet. HIV also uses two ways of spreading within the body."
Detailed sample data from 17 HIV patients from London were used to verify the model showing that HIV spread through the bloodstream alone would not be enough to cause Aids.
The virus gains a foothold in areas with a high T-cell population, by using a cell-to-cell transfer mechanism to efficiently spread directly between them. Treatment that tries to block the spread through the bloodstream cannot stop Aids.
But blocking cell-to-cell transfer can and that is why it is important to start treatment sooner than later.