Christmas came early for some, while others were left bloodied, bruised and empty handed during scenes reminiscent of Black Friday 2014, as scuffles broke out outside London's H&M store.
Rushing into the flagship Regent Street store, the desperate fashionistas could be seen grabbing anything off the racks where a limited edition collection from French fashion house Balmain was on sale for a fraction of the catwalk price.
Notoriously expensive, pieces from Balmain designer Olivier Rousteing, who is a known favourite of celebrities like the Kardashians, were retailing for just hundreds at H&M. T-Shirts were just £25.
It marks a run of high-fashion collaborations for H&M, with previous partners including Stella McCartney, Karl Lagerfeld, Donnatella Versace and Alexander Wang
Many had queued overnight but as the store's opening time approached, the mood became fractious as people barged towards the doors, before charging into the shop once they were opened.
Many were left empty handed and online shoppers hoping to pick up a piece were greeted with a blank website and the message that there was a "high level of interest" in the new collection.
The scenes were reminiscent of those seen on Black Friday - the US-inspired discount day at the beginning of the Christmas season.
However, after chaotic and violent scenes last year, some British retailers are understood to be scaling back their plans for this year's event which comes the day after Thanksgiving each year.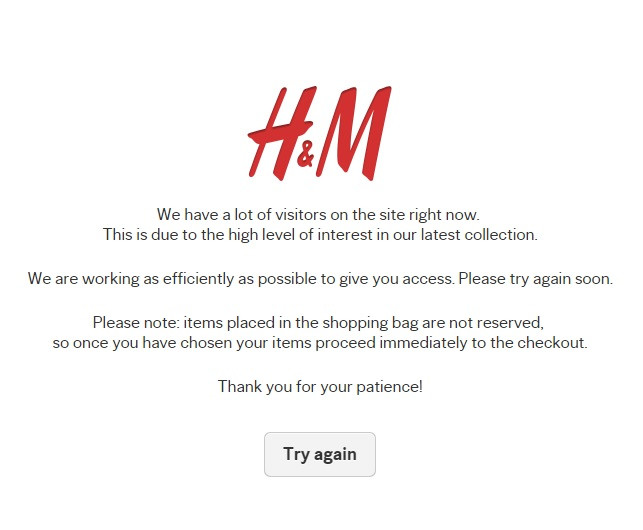 Despite an estimated £810m being spent last year and John Lewis boss Andy Street predicting Black Friday sales would be 20% higher this year, Asda is said to be among some retailers planning to scale back its plans for this year.
After camera crews filmed shoppers fighting over discounted TVs at its Wembley store last year, this year the trade journal Retail Week is reporting the supermarket giant might consider online-only deals or spread offers over several days to prevent chaos in its stores. The store would not comment to IBTimes UK.
Police were also called to a number of Tesco stores during late night disturbances as frenetic shoppers tried to snap up bargains, while the websites of several big retailers including Marks & Spencer and Currys struggled to cope with demand.
Last month Home Retail Group, the owner of Argos also admitted it was unsure about sales levels on Black Friday despite a large marketing campaign.