He is young, black and now a celebrity in his own right, so it is safe to say Olivier Rousteing is not the most conventional creative director. Over the past few years, Paris-based haute couture house Balmain has become a household name with high-profile celebrity clients and an image overhaul to match. It is all down to one man but just who is Olivier Rousteing, the man who has put Balmain on the map?
On 5 November, the French fashion house will team up with high-street brand H&M for a collaboration that will see key pieces from Rousteing's collections on sale for a fraction of the usual price. Teaming up with such an affordable store is certainly a smart move on the creative director's part – Balmain will now be accessible to the masses and it will enjoy immense exposure.
Undeniably, Rousteing is taking the Balmain brand in directions it had never reached prior to his appointment as creative director four years ago. While he may mingle in glamorous circles today, there is no hiding from the fact that he worked hard to climb to the top while fighting all the obstacles against him.
Rousteing, who is of mixed-race heritage, was born on 13 September 1986 in Bordeaux, France, and was adopted by a white couple at the age of one. The fashion designer has been open about attitudes towards race and admits he was naive of discrimination as a child.
He explained to Out magazine in April: "I don't see myself as black or as white, just human. When I was 11, I didn't realise my [adoptive] parents were white. My parents taught me when you are their child they love you. People in school told me: 'You are a bastard. You are black, and your parents are white.' I didn't know there was a problem."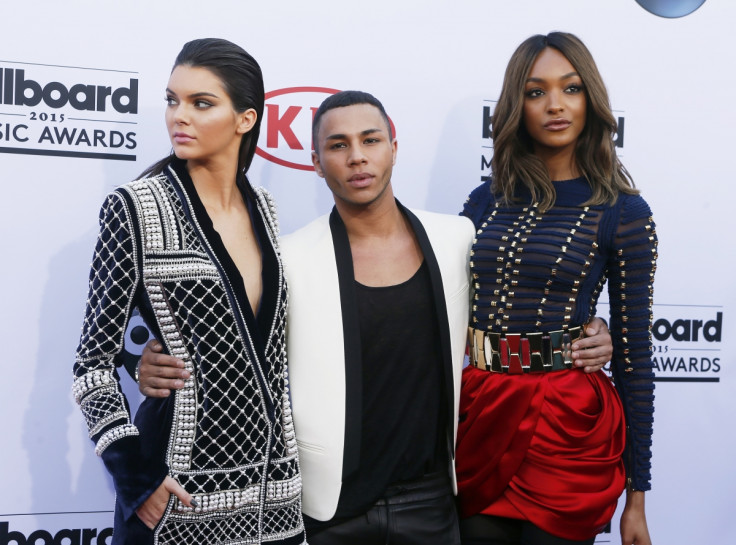 Despite the lack of black designers in the high-end fashion world, an incredibly ambitious Rousteing set about his plan to conquer the industry and studied at Paris' ESMOD (the Ecole Superieure des Arts et Techniques de la Mode) before graduating in 2003. He hit the ground running and started his career as a designer at the prestigious Roberto Cavalli where he climbed the ranks to become head of the women's division for the fashion house's ready-to-wear collection.
However, he found his true home in 2009 when he joined Balmain, the haute couture house founded by the late Pierre Balmain. At the time, it was a respected brand but mostly known by hardcore fashionistas as opposed to the regular trendsetter. Although, in 2009, something quite remarkable happened.
Christophe Decarnin, whom Rousteing had a close relationship with, stepped down as creative director and his young protege took his place. Within the industry, the news was met with raised eyebrows. After all, Rousteing was just 25 at the time and had a darker complexion than most other prominent figures in the industry.
In his own words about the reaction to his appointment, Rousteing said: "People were like, 'Oh my God, he's a minority taking over a French house!' For me, I'm just French. Yeah, I'm black, but go out into the street – there's black, white, Chinese, Arab..." In order to prove the naysayers wrong, he had to make his mark and quickly. The designer did not waste anytime in doing so either, completely giving Balmain's signature looks a modern overhaul.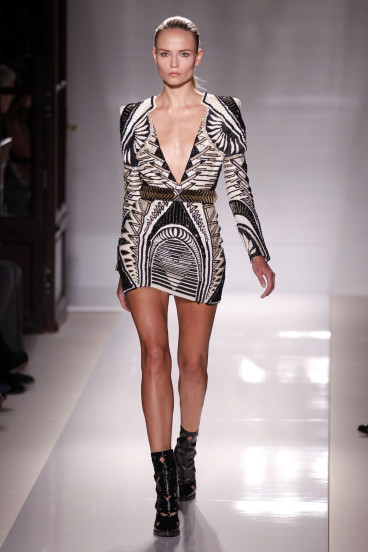 Embellished prints, chunky belts, rich colours and sharp shoulder pads all comprised the brand's key looks; all Rousteing needed were the perfect muses to showcase his bold designs. It is no secret that US reality star Kim Kardashian had long dreamed of getting her stilettos perfectly placed on to the Paris fashion scene and she finally found her way in through Rousteing, who enlisted the E! star and her rapper husband Kanye West to feature in campaign. Suddenly, Balmain had caught the attention of the world.
Soon enough, Rousteing was giving her whole family a platform with Kylie and Kendall Jenner taking part in editorial campaigns and leading the runway at fashion week for the couture brand. All in all, it has been a collaboration that has paid off for both parties and it is entirely fascinating.
Explaining his incredibly close relationship with Kimye and the Kardashian/Jenner family, Rousteing said: "You need to have someone from outside to make you want to rediscover Paris. I needed to have Americans in my campaign. She is American and Armenian and has a mixed-race baby. That for me is what I want to show. They're global. Paris and Balmain need to go global."
Rousteing's influence in celebrity circles spoke volumes at his 30th birthday party in October – Cara Delevingne, Jourdan Dunn, Justin Timberlake, Jessica Biel, Rosie Huntington-Whiteley, Jennifer Lopez, Jada Pinkett Smith and, of course, the Kardashian/Jenner clan were just a few of the stars in attendance.
Although no matter who his famous friends are, Rousteing will always remain humble. He once said: "Even when I start acting like a diva, they remind me where I come from. I got a little bored. My parents wanted me to be an international lawyer, but I wanted to do something I felt passionate about. I didn't want to lead a quiet life."