Holi, one of the most popular festivals on the Hindu calendar, is set to be celebrated by Indians all over the world next week.
On Monday 13 March, the annual event known as the "festival of colours" will be marked by Hindus globally, with many taking to the streets to throw coloured water and paints over each other.
The festival is in honour of love, happiness, the Hindu God Vishnu and his eighth incarnation, Krishna. It's a tradition that is meant to both reflect the coming of colour in Spring and reflect Krishna's playful pastimes.
However, in recent years concerns have been raised about the contents of the powders that people throw over each other with fears that the chemical substances in them may not be good for people's health.
This guide from IBTimes UK rounds up everything you need to know about ensuring your Holi is safe by using natural ingredients and gentle products.
Yellow
Yellow is the colour of knowledge and learning in India. However, it also symbolises happiness, peace and meditation for many.
What can be used:
Tumeric powder
Gram flour (can be substituted with normal flour, ground nut powder or talcum powder)
How to make the colour:
For a dry powder, mix two teaspoons of turmeric with double the quantity of flour
For a wet powder, mix one teaspoon of turmeric with two litres of water
Tips:
Tumeric powder and gram flour are both extremely healthy for the skin
The mix of turmeric and water can be boiled to increase its concentration
Flowers such as Cassia fistula, yellow Chrysanthemums, or flowers from thorn trees can also be used instead of turmeric powder
Crush the leaves to obtain a fine powder out of them
You can choose to mix the flower powder with flour or use it on its own, depending on quantities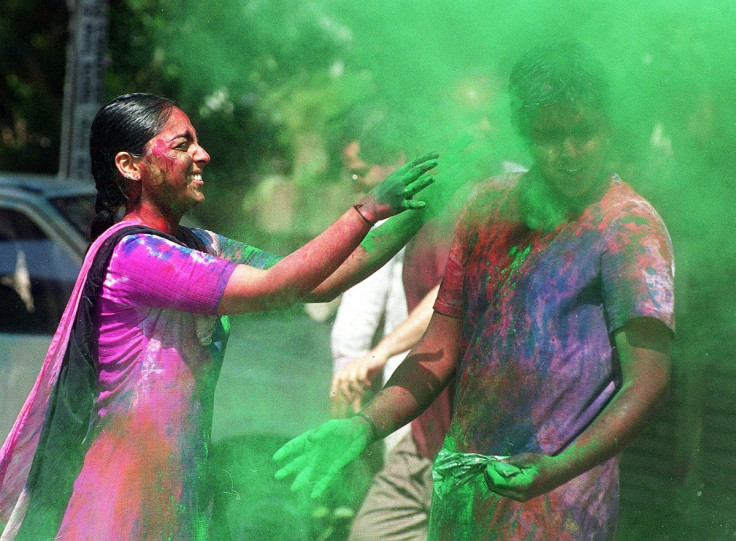 Green
The colour green is commonly used during the festival of Holi. It symbolises life and happiness in India and fits well with the sentiments of the Holi festival.
What can be used:
Leaves of spinach, coriander, mint, tomato
Leaves of a Gulmohar tree (Delonix regia)
Flour
How to make the colour:
Make a paste out of the combination of green leaves
For a dry powder, mix the leaves with an equal quantity of flour
For a wet colour, mix the leaves with water
Tips:
Henna powder or mehendi powder can also be used instead of the leaves
If using mehendi, you must only use pure mehendi and not the one commonly used for hair care
Using mehendi that is used for the hair will give you a brown colour, rather than a green one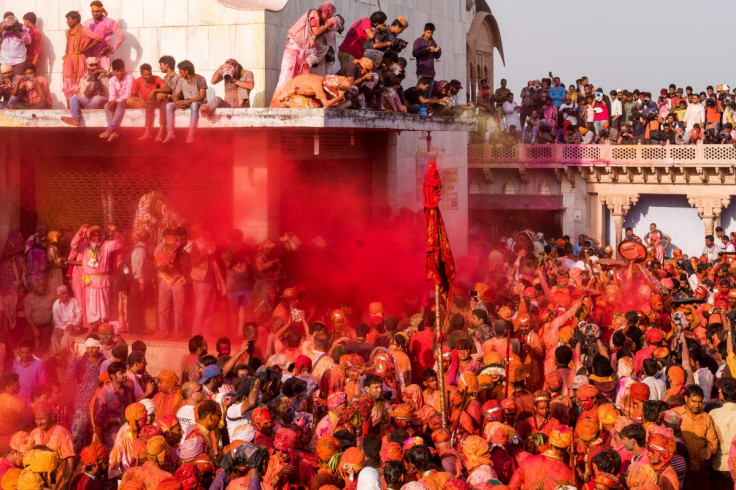 Red
In India, the colour red symbolises sensuality, as well as purity. It is the colour used during weddings (worn by the bride) and is also associated with the birth of a child.
What can be used:
Peels of red pomegranates
Red sandalwood powder
Rose petals
Tumeric poweder
Lime powder
Flour
How to make the colour:
For a dry red powder, the easiest ingredient to use is red sandalwood powder, which can be used on its own. It is also known to be beneficial for the skin and is commonly used in face packs in India.
Alternatively, the dry crushed leaves of red roses are known to make a bright shade of red. You can add flour to the leaves to increase its bulk.
For a wet paint, the easiest method is to boil the peels of the red pomegranate.
Alternatively, for a bright orange-red wet powder, two spoons of turmeric pwder can be mixed with a pinch of lime powder and a few drops of water.
Tips:
Red hibiscus flowers are soaked in water overnight provide a lovely red colour, and is also known for its medicinal values.
You can also use the juice of tomatoes and carrots by first diluting it in water to remove the stickiness.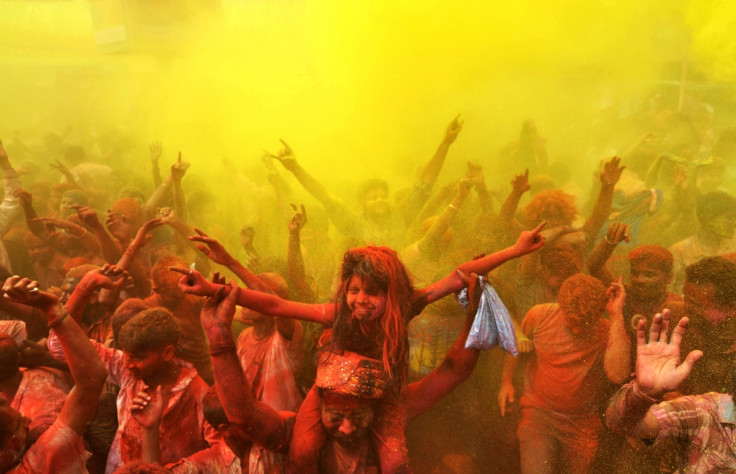 Saffron
This has become known as the traditional colour of Holi and is also strongly associated with being one of the national colours of India, due to it being the first colour featured on the Indian flag. According to Hindu legend, Lord Krishna used to play Holi with flowers that provided a saffron colour.
What can be used:
Butea monosperma petals (Tesu flowers, believed to be used by Lord Krishna to play Holi)
Any red-coloured flowers
Sandalwood powder
Stalks of saffron
How to make the colour:
Tesu flowers are ideal for this colour, however, any red-coloured flower petals can be boiled in water to create a wet colour
Alternatively, soak a few stalks of saffron in two table spoons of water and then grind it to make a fine paste
Tips:
Saffron stalk paste can be diluted in water to amplify the colour of the paste
The saffron paste is also known to be good for the skin
Flower petals of silk cotton are a good alternative if you don't have Tesu flowers or saffron