Hotel and tour operators are anxiously awaiting the results of Sunday's referendum on whether Crimea should split from Ukraine and join Russia. Tensions and uncertainty following Russia's invasion of the peninsula has led to a massive drop in the the number of tourists. Package tours are reported to be down 90% on last year.
The Black Sea's Mediterranean climate has made it a popular holiday destination for Russians since Catherine the Great annexed Crimea in 1783. By the early 20th century Black Sea resorts such as Yalta were seen as a playground for the elite, who built lavish summer palaces there.
The Soviet regimes designated Crimea as national health resort, where workers could take advantage of the bracing sea air. The state built vast, factory-sized sanatoria for the working classes.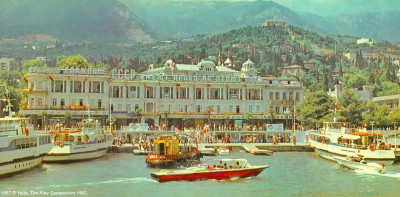 The number of annual visitors to the Black Sea peninsula is about six million. Around a quarter of these are Russian, but the majority are Ukrainian. Western tourists had recently discovered Crimea – it topped National Geographic's list of "20 must-see places" last year. (Fun fact: Yalta is twinned with Margate.)
Crimea is expected to lose tourists from Ukraine if the referendum goes Moscow's way but there could be an influx of wealthier Russians. Tour operators hope for a return to normality, whatever the outcome of the vote.