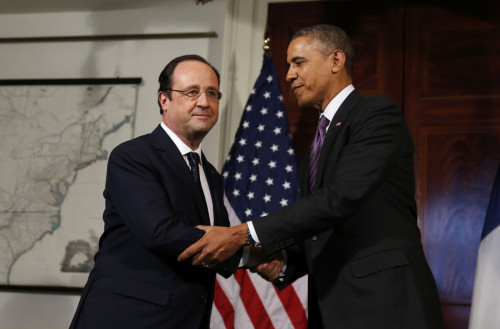 French President François Hollande has kicked off his three-day state visit to the US with a short trip aboard Air Force One alongside President Barack Obama.
The two leaders, who will be touting Franco-American ties during the state visit, were flying from Washington to Virginia, the home city of former American president Thomas Jefferson who served as US envoy to Paris for nearly a decade.
"Thomas Jefferson represents what's best in America, but as we see as we travel through his home, what he also represents is the incredible bond and the incredible gifts that France gave to the United States, because he was a Francophile through and through," Obama told reporters.
"Tomorrow we'll have an opportunity to talk about not only our current bonds and alliance but also ways that we can strengthen our cooperation in the future."
The visit to Francophile Jefferson's home at Monticello was designed to highlight the strong relationship between the US and France, which goes back at least two centuries, despite the recent strain caused by NSA surveillance revelations.
"We were allies in the time of Jefferson and [French General Marquis de] Lafayette. We are still allies today. We were friends at the time of Jefferson and Lafayette and will remain friends forever," said Hollande, referring to the French general who helped the US to defeat British colonial rule.
Hollande will be formally greeted by Obama and welcomed with a 21-gun salute at the White House on 11 February. It will be followed by formal talks and a joint press conference.
After that, Obama will be hosting the first state dinner of his second term.
In an article jointly written by Obama and Hollande and published by the Washington Post and Le Monde, the leaders said: "A decade ago, few would have imagined our two countries working so closely together in so many ways. But in recent years our alliance has transformed."
The talks between them are likely to range from Iran's nuclear activities to the Syrian conflict and the instability in the African continent.
The signing of a trade deal between the US and Europe is also to expected to be discussed.
The visit has come just days after Hollande's public split with de facto French First Lady Valérie Trierweiler.