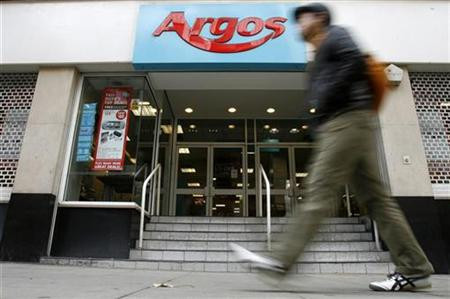 Shares in Home Retail were down in morning trading after the group reported a fall in sales in the first half of the year.
At its Argos stores like for like sales declined 6.5 per cent to £1.8 billion, while the group's Homebase stores saw like for like sales decline 0.8 per cent to £855 million.
Home Retail said that sales of video games and big-ticket items such as furniture were weak at its Argos stores, but said that computers, white goods and toys saw good growth.
At Homebase sales of kitchens, bathrooms and bedrooms were strong, as were sales of gardening goods and outdoor furniture.
The group is currently in the process of a share buy-back programme worth up to £150 million. So far 44,910,000 shares have been bought at a cost of 241 pence per share, raising £109 million.
Keith Bowman, Equity Analyst at Hargreaves Lansdown Stockbrokers, commented,
"Relegation from the premier FTSE-100 index has been compounded by news of continued tough trading. Headwinds remain strong, with fragile consumer sentiment, increased promotional activity and detrimental currency movements all pressuring group profit margins. Furthermore, the internet avenue of 'click and collect' is becoming increasingly crowded, whilst news that Tesco is to triple its loyalty Clubcard points for certain customers underlines the magnitude of competition facing the company.
"On the upside, the valuation has become increasingly attractive, supported by a 6pc plus dividend yield, whilst a relatively strong balance sheet is currently underpinning both the dividend payment and an ongoing share buy-back scheme.
"Nonetheless, sales and profit momentum remain on the downside, with few obvious catalysts ready to spark a turnaround. As such, market consensus opinion continues to denote a sell."
By 11:00 shares in Home Retail were down 3.07 per cent to 214.60 pence per share.