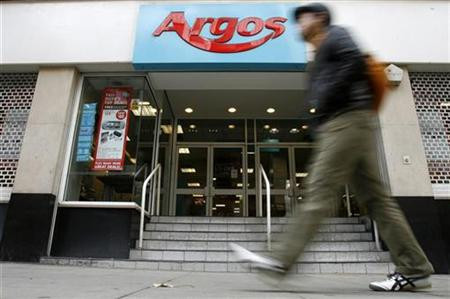 Shares in Home Retail were up on the FTSE 250 in morning trading after a "steady" and "unexciting" update exceeded the low expectations of investors.
The group said that total sales at its Argos stores in the 18 weeks to 1 January 2011 dropped 3.2 per cent to £1.9 billion, while on a like for like basis sales fell 4.9 per cent.
Home Retail said that while there were strong sales of laptops and tablets at Argos, "difficult markets" saw sales of video games and jewellery struggle.
During the quarter, six new Argos stores were opened, although one was closed, taking the number of Argos stores to 754.
Total sales at Homebase in the period fell 2.8 per cent to £487 million, while like for like sales declined £487 million. Four Homebase stores were closed in the period, taking the number of Homebase stores down to 341.
Despite the falling sales Home Retail said it bought back 58.8 million shares from its shareholders at a cost of £139 million, representing 6.7 per cent of the group's issued ordinary shares.
Terry Duddy, Chief Executive of Home Retail, said, "Argos has performed in line with our original expectations for its peak period, despite some particularly challenging and volatile trading conditions in the build-up to Christmas. Homebase has again traded well in what is for them a less seasonally important selling period. We now expect Group benchmark PBT for the year to be around the mid-point of our previously guided range of £250-275m."
Keith Bowman, Equity Analyst at Hargreaves Lansdown Stockbrokers, commented, "Given prior low expectations, Home has delivered a steady if unexciting trading update. While total and same store sales fell across the board, profits are still expected to materialise in line with previous management guidance. The group's early adoption of internet based sales at Argos continues to reap rewards, whilst a previous move to more 'female friendly' product lines at Homebase appears to be assisting performance.
"Furthermore, a strong balance sheet going into the economic crisis is now playing its part, enabling cash resources to support a share buy-back scheme, steadying earnings and providing support.
"In all, while group difficulties have been reflected in a 26pc underperformance of the broader retailer sector over the last 12 months - market consensus opinion currently denotes a sell - management is still fighting hard, with the group not facing the severe structural issues being faced by some fellow retailers such as HMV."
By 11:00 shares in Home Retail were up 8.64 per cent on the FTSE 250 to 223.80 pence per share.