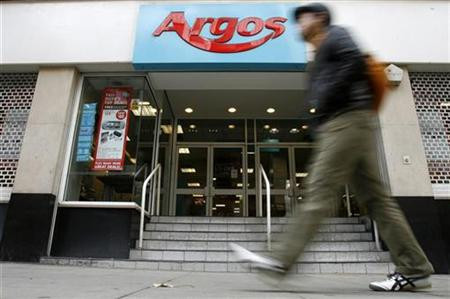 Shares in Home Retail were up on the FTSE 250 in morning trading after the retailer reported a fall in sales and pre-tax profit in the full year ended 26 February 2011.
Group sales in the period dropped three per cent to £5.9 billion, while pre-tax profit before exceptional items dropped 13 per cent to £254 million.
The group said that its Argos stores had maintained market share and had become Great Britain's second largest internet retailer, with 400 million visits to its website. Multi-channel sales at Argos increased to £1.9 billion.
At the group's Homebase stores the company said it had made market share gains and had seen "significant growth" in its multi-channel sales.
During the period Home Retail said it had cut its operating and distribution costs by three per cent to £1.9 billion and that it had completed a £150 million share buy-back programme.
Net cash at the end of the period was reported as being £259 million and the group said it would be holding its full year dividend at 14.7 pence per share.
Terry Duddy, Chief Executive of Home Retail, said, "Our focus on operational excellence and further investment in our multi-channel leadership has delivered a solid performance and enabled us to gain or hold market share in our businesses. Although we remain cautious about the consumer outlook over the short term we will continue to invest and innovate in our customer proposition and use our competitive advantage to provide customers with the best value and widest choice in home and general merchandise."
Richard Hunter, Head of UK Equities at Hargreaves Lansdown Stockbrokers, commented, "Having trailed the drop in profits in its update last month, Home Retail is subject to something of a relief rally in early trade.
"Amidst the general concerns, there are some glimmers of hope for the company. Operating and distribution costs have been cut, the Argos arm has maintained its market share, and Homebase continues to enjoy some growth. In addition, the shares are currently yielding 6.7%, an attractive proposition for income seeking investors in the current interest rate environment. It remains to be seen in the medium term whether this level of dividend can be maintained, however, whilst the understandably cautious management outlook has recently weighed heavily on the shares. The ferocity of competition from other, larger operators - particularly online - will add further pressure to prospects for Home.
"In all, much of the bad news is already in the price, with the shares having fallen 27% over the last year, as compared to a 10% gain in the wider FTSE250. Even so, investors are not convinced by Home's prospects, especially with better value to be found elsewhere, and the general market consensus remains that the shares are a sell."
By 09:00 shares in Home Retail were up 4.16 per cent on the FTSE 250 to 218.00 pence per share.