A non-profit organisation, Corporate Watch, has claimed that several homeless charities are working together with local councils in helping the Home Office deport vulnerable foreigners.
In its report The Round-Up, it says that in 2016 several outreach teams from homeless charities conducted 141 joint 'visits' with the Immigration Enforcement officers and the Greater London Authority and 12 London boroughs, sometimes as often as every fortnight.
It claimed that under Freedom of Information responses received, a total of 133 rough sleepers were detained in eight of these areas while 127 people were deported in a year in Westminster alone.
The NGO accuses these outreach teams of routinely passing on locations of non-British rough sleepers to the Immigration Compliance and Enforcement teams, claiming that some of them receive payment, depending on the number of rough sleepers who are kicked out of the country.
It says EU and other European Economic Area nationals are the main targets as they make up nearly half of London's rough sleepers, with migrants from Romania, Poland and other East European countries "particularly affected."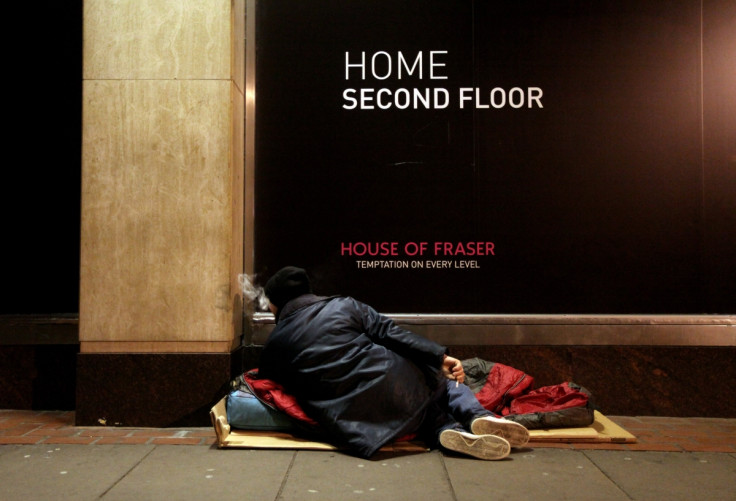 The scenario is different outside London where the majority of rough sleepers are UK nationals.
The NGO is asking workers at these charities to stop passing on information about rough sleepers to the Home Office. The North East London Migrant Action is also launching an online protest from 10am on Wednesday against charities that are working with the Home Office on forced removals of foreign rough sleepers.
The Home Office recently circulated new guidance on the removal of some of these rough sleepers after the government stepped up moves to remove homeless foreigners.
Homelessness charity, St Mungo's one of those accused by Corporate Watch of helping the Home Office deport foreign vulnerable people, told The Guardian: "The reality is that under current UK legislation, there are vulnerable people that are not eligible for support or housing and as a result are left destitute on the streets."
Its Chief Executive Howard Sinclair added: "When returning home is the only option for a vulnerable individual sleeping rough, we have to ask ourselves what would happen if we didn't get involved. The stark reality is that without any intervention people would simply deteriorate on our streets."
Thames Reach, another homelessness charity said: "Thames Reach has no powers to compel rough sleepers to return home but when we believe that individuals are at risk from living on the streets, where people are in extreme destitution, we will work with the Home Office to plan a way for them to return home."
A spokesman for Change, Grow, Live says it helps rough sleepers to get help, regardless of their background or nationality and that it works with local authorities and statutory agencies to reduce the risks they face and to find solutions.
"When there is no other option and the person has refused reconnection [to their relatives], they are unable to work and cannot be housed, there is little alternative to them going back to their home country," the spokesman said.
Home Office decline to give details on its operational activity
A Home Office spokesman declined to give details of its ongoing operational activity "for security reasons."
"We do not publish figures for the number of individuals found during rough-sleeping operations," he said.
He however admitted that the Greater London Authority's database of homeless people, which provides information on the location of rough sleepers, including migrant rough sleepers, is made available to the Home Office