On Saturday 1 July, Hong Kong will mark 20 years since the Asian financial hub was handed back to mainland China, ending 156 years of British colonial rule.
As part of the handover, a mini-constitution known as the Basic Law promised that Hong Kong would retain a high degree of autonomy for 50 years under a "one country, two systems" formula, with full democracy an "ultimate aim". But two decades later, there's no sign of that aim. China declined to make any concessions to student protesters demanding universal suffrage in "Occupy" street demonstrations in 2014. Frustration among democracy activists has simmered ever since.
IBTimes UK takes a look back at the territory's tumultuous times since 1997, with economic turmoil, outbreaks of deadly diseases and pro-democracy protests.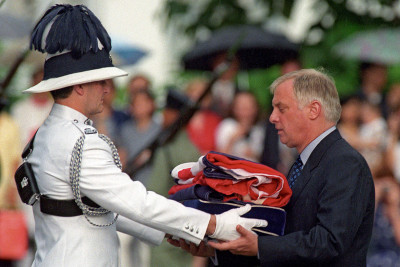 Chinese President Xi Jinping is due to attend anniversary events in coming days, including new Chief Executive-elect Carrie Lam's swearing into office on Saturday as the city's first female leader. Lam, 60, is the territory's fourth leader since it reverted to Chinese rule in 1997.