As Hong Kong's pro-democracy protests enter the 13<sup>th week, summer break is over for school students. To make a point, thousands of students have chosen to bunk the first day of school to join a rally that is to take place at Central. Riot police has increased patrols at the Mass Transit Railway stations to prevent demonstrators from causing any disruption during rush hour.
The school strikes have been organised by anti-government youth group Demosisto. Demosisto has managed to influence students from over 200 schools to join the term-opening boycott. It has been estimated that around 10,000 secondary school students will be bunking school to join the rally. Some of the schools being boycotted are the city's premier institutions which were attended by the city's leaders and the chief-of-police.
In many schools, when younger students returned for the first day of school, they were welcomed by senior students wearing black T-shirts over their school uniforms. Schools have not asked the protesting students to provide any signed permission from their parents to take part in the protest. However, many schools have listed the names of the boycotting students.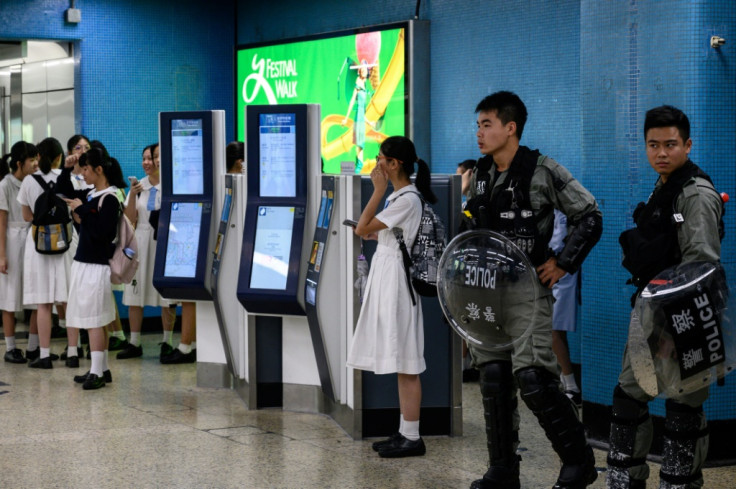 Those students who are not boycotting classes have expressed their concern for their classmates. The school authorities may take action against the boycotting students later. According to the South China Morning Post (SCMP), many students have returned to class because they feel that the protest is futile. One of the student organisers of the boycott at Shau Kei Wan reportedly told SCMP: "Personally, I'm not too optimistic about the future of this extradition bill movement, because what we're really up against is the central government."
The end of the summer break might not mean that the youth of the city are retreating from showing their dissent. Over the weekend, Hong Kong riot police struggled to suppress the violent outbursts from demonstrators. Even though Saturday's mass demonstration was banned, there were protesters taking to the streets.
Hong Kong's Mass Transit Railway (MTR) system has been the lifeline for the protests. Over the weekend, the MTR stations were turned into battlegrounds where police and rioters clashed. On Monday, riot police entered the MTR stations and trains to weed out the protesters who were trying to disrupt the daily rush-hour commute.
Swift police action ensured that most MTR lines suffered no delays. With a rally planned to occupy Central, a replay of the weekend's violent clashes can be avoided. Heavy rains have hit the city, causing the rally to be delayed. Yet, the demonstrators are expected to join the rally even if the bad weather persists.