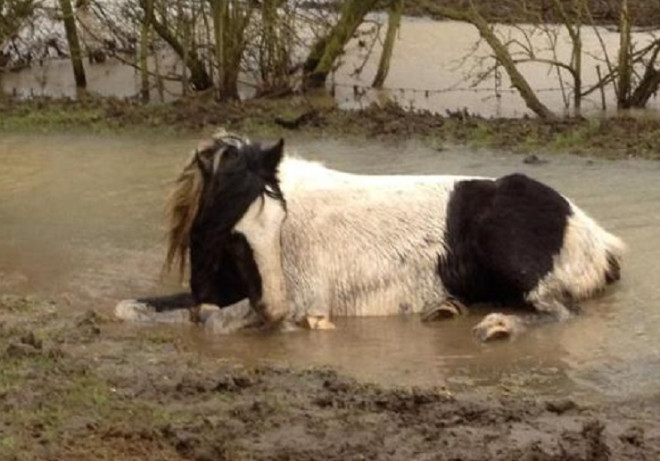 A photograph of a dead horse in Leicester has caused outrage among animal lovers.
More than 30,000 people have signed up to Help the Horses of Fosse Park after disturbing pictures emerged on social media.
They are campaigning for the RSPCA to take action against the owner who is reportedly grazing the horses on the field, owned by Everards Brewery, before slaughtering them to sell abroad.
But the RSPCA said it had no reason to investigate after a vet ruled there was no clear evidence the horses were suffering unnecessarily and that the body of the dead horse only recently appeared after being swept away by the recent flooding.
Mark Johnson, however, started the campaign after noticing a horse sitting in water in the field. The animal had to be put down.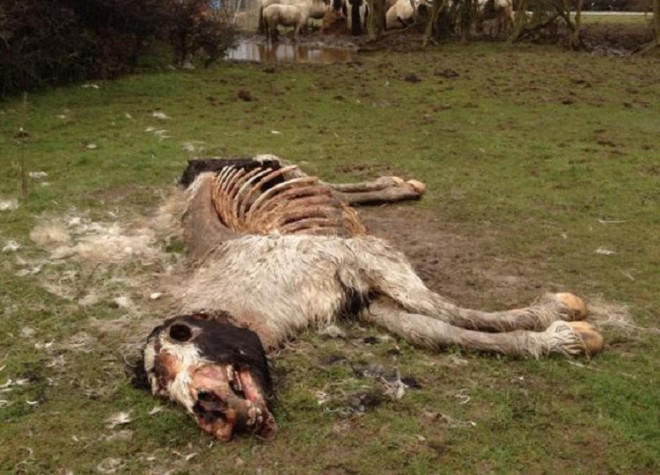 Johnson, a farrier from Stoneygate, told the Leicester Mercury: "I went into the field because that is not what horses usually do [sitting in water].
"When I got there I could see it was exhausted and just sitting there. Me and my son Harry got some ropes to try to pull the horse out but could not.
"While we were there we spotted the rotting corpse of another horse. There were other horses there too.
"It was a very disturbing scene and one I wanted to highlight. I wanted to know they were okay."
Leicestershire Police spoke to the owner and said they were satisfied no crime had been committed.
But many Facebook users could not contain their anger.
Georgina Woodward posted: "How much more monitoring do they need to do. Surely the fact that one died and its carcass was left to rot in the field and another had to be put to sleep is enough evidence of neglect and cruelty or am I missing something?"
Karen O'Reardon wrote: "This its wrong on so many levels. Cruel is one word, but to monitor a field full of horses with no real shelter or fresh water, hay put on a waterlogged area and not on clear grass, then the RSPCA is just as bad as the owners for allowing this to carry on. A rotting carcass on land will get into waterways. That is something for Defra [Department for the Environment]. Get Leicester's mayor to go down."
Stephen Gould, managing director of Everards, said his family owned the five-acre site and leases it to the horse owner but was satisfied the lessee had not done anything wrong.
"I have advised horse owner where it is practicable to relocate the horses otherwise it becomes an ongoing debate," he said..
"He acknowledges it would be sensible to relocate but has said he needs to find the appropriate places."
Gould added: "I am not keen to force that timetable on him."
He understood that the owner had raised concerns with the RSPCA about the dead horse when it was lost in the recent floodwaters. The society advised removal of the corpse.
The horse owner admitted to Gould that he should have notified the authorities that his 22-year-old mare found in the water was too weak to move. He was unavailable to comment further.
A demonstration was planned outside Everards Brewery to request a change of use for the land.