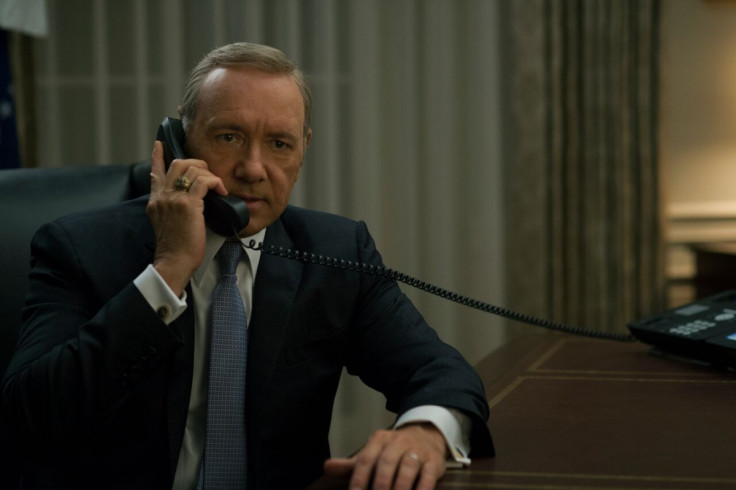 House Of Cards season 4 is returning on Netflix on 4 March and fans are excited to learn about how President Frank Underwood (Kevin Spacey) will react to the fact that his wife Claire Underwood (Robin Wright) is leaving him. Fans have seen marriage problems between the couple for the umpteenth time and it will be interesting to see how they both will deal with the high profile separation.
The official synopsis of the popular political drama reads: Frank and Claire continue their pursuit for power, battling everyone in their way, including each other.
Click here and here to watch all the episodes of House Of Cards season 4 on the Netflix website. You can also watch the series on your computer, mobile, iPad or other Netflix-enabled devices here.
The battle of power has engulfed the Underwoods and Spacey's character struggled during his presidential campaign in season 3. In the upcoming season the Machiavellian politician will try to reconnect with his wife and bid for re-election.
"I feel so blessed that audiences around the world have proven such loyal and passionate viewers. I can't wait for them to get a look at season four," Spacey told The Hollywood Reporter.
Nathan Darrow, who plays Secret Service agent Edward Meechum, told the website that the plot of season 4 is intense and it will be "dark".
"Fans should be excited for more of the brilliant villainy of Frank and more of the bloodshed that flows in his wake,"
Elizabeth Marvel, popular for playing Heather Dunbar, the political nemesis to Frank, have teased a Shakespearean storyline for the most awaited season of the Netflix original. "I think the appeal, and the success of the show in general, is that it is Shakespearean in the way they unpack these characters. They keep unfolding, both dark and light."
The fourth season of the Netflix series will be available worldwide on 4 March on Netflix.