How Auntie May and 'handsome' Philip wooed new fans in China Brexit trade tour
Chinese fans called the PM "auntie".
The state press described Philip May as "handsome".
Angela Merkel is widely referred to in Germany as "mutti" or mother, and now it seems Theresa May has picked up her own nickname – but not from the British.
While on a three-day trade tour of China, the prime minister has become widely known as "Auntie May".
People on social media and in the press have taken to the MP for Maidenhead and have made their affection know for her with the nickname.
In what was only her second trip to the country, her last being for the 2016 G20 summit, May met with the Chinese president and other state officials as part of plans to bolster trade between Britain and the world's second largest economy.
On day two of her trip, a Chinese reporter questioned May about this new-found affection, to which she didn't even realise that the nickname of "auntie" had become popular.
The interviewer said: "A lot of Chinese people would affectionately call you, in Chinese, 'Auntie May'. That's really a kind of a call for Chinese — you're one of the members of the family. Do you like that?"
May responded by saying "Oh, thank you. Thank you very much indeed. I'm honoured by that."
However, it isn't only the PM who has been turning heads – her husband Philip May has also won over new fans.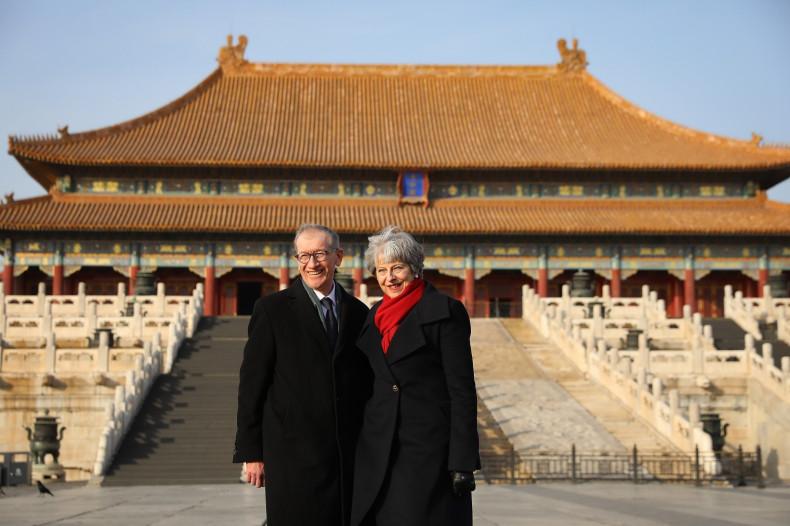 Philip May, who often stays away from the spotlight, was described in many Chinese outlets as being "a very handsome gentleman".
Theresa May confirmed that £9bn (€10.2bn) of new business deals had been signed on her tour, but these have done little to dispel the concerns over May's Brexit stance, which has appeared unclear at times.
Conservatives back in Westminster have been warring over how best to approach Britain's exit from the European Union, which is just 14 months away.
The PM's future has remained just as unclear as hard Brexiteers push for more detail on her plans for the negotiations in Brussels.