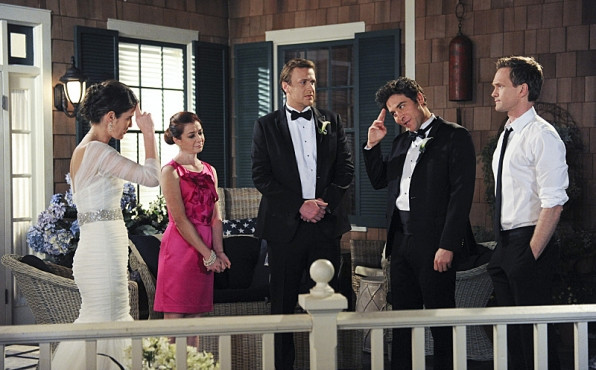 The penultimate episode of How I Met Your Mother Season 9, titled The End of The Aisle will air tonight and one of the major highlights of the episode is Robin finally meeting the mother.
The synopsis for the episode reads: "Half an hour before their nuptials, Barney and Robin both suffer panic attacks, while Marshall and Lily take the occasion to rewrite their original wedding vows."
It is Robin's wedding day, so naturally she plays a big part in tonight's episode. "Not only will she have second thoughts about marrying Barney, but she will also finally meet the woman that will become Ted's wife," states examiner.com.
The mother offers advice to Robin where she is seriously considering walking away from Barney and the wedding.
"Sometimes even just three deep breaths can change everything," the Mother tells Robin, giving her some last minute advice on her wedding day, reports KpopStarz.
The moment between Robin and the mother has been teased as life-changing, according to examiner.com.
Spoilers Guide also shared a new sneak peek for the latest episode, The End of The Aisle.
The sneak peek for the episode shows Ted talking to Robin as well. He speaks about love and how 'it is the best thing we do.' He further explains that 'love' may not make sense but she and Barney make sense together.
Click here to watch the episode online via a free live stream.
CBS also offers episodes on their website to watch online the morning after it airs.