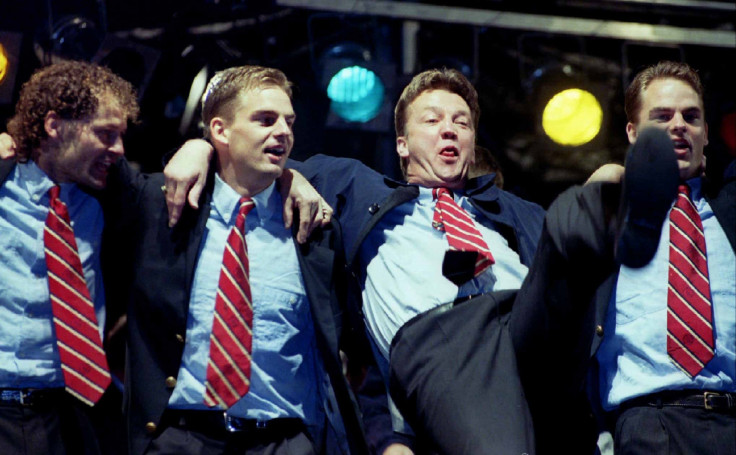 If Louis van Gaal was that wild after guiding Manchester United to fourth place this season, just imagine what he will be like if they actually win something.
The Dutchman works hard and plays hard, perfectly demonstrated in the club's end-of-season awards ceremony on Tuesday (19 May) where he dominated the stage, perhaps fuelled by a bottle of red, with a sublime speech that stole the show in front of his players and staff.
The manager's eight minute oration flew from measured, to intense, to slightly bewildering in enthralling fashion. And looking at his mellow celebrations in previous successes, he promises to deliver much more if United can get their hands on some silverware next season.
Van Gaal's relationship with Bayern Munich ended in bitter circumstances with tensions still lingering between him and the Bavarians to this day, but their league and cup double in 2009-10 remains high on his steller list of accomplishments.
After bringing the youthful Thomas Muller and Holger Badstuber into his first team plans and revolutionising the midfield role of Bastian Schweinsteiger, van Gaal restored the club to the upper-echelon of German football after a season out of the limelight. Keeping in check with tradition, he donned lederhosen in the post-season party as he addressed the crowd from the balcony of the town hall in Munich, possibly with a few jars down him.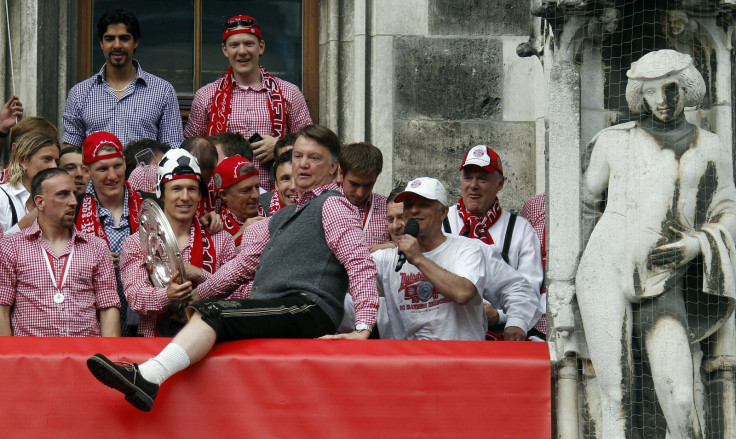 After giving a shout out to all the ladies in the crowd, the Dutchman stuck it to Bayern's closest rivals that season in Schalke, Werder Bremen and Bayer Leverkusen, in typically enthusiastic fashion, before leading the celebrations with his finest impression of your drunk uncle rocking an empty dance floor at a wedding.
Van Gaal bellowed to the crowd: "First of all, I have seen many women here today, many mothers as well. A big kiss from the coach of the champions. Now, who has the best defence? FC Bayern! Who has the best attack? FC Bayern! And that is why we are the champions. And not only of Munich, also of Gelsenkirchen, also of Bremen, and also of Hamburg. We are the best in Germany. And possibly, in Europe."
Naming and shaming the clubs he had fended off was a party trick he also used after leading AZ Alkmaar to the Eredivisie title the year before, just the club's second ever league triumph. During the 2008-09 season, he masterminded a 28 match unbeaten run, including a run where his side didn't concede a goal to the opposition in 11 games - so who can blame him?
"My Truusje (his wife) doesn't allow me to say this... But we really are the best, isn't it? We are the best. The best in? In which city? In which city? The best in Rotterdam, where my Truusje is living. We are the best in Eindhoven. And we even are the best in Alkmaar... So we're the best in the Netherlands. Yes. Yes. Yes. Yesssssssssss." - [Video kindly translated by Kristof Terreur]
The Dutchman's second spell at Barcelona is maybe better off forgotten, but his first reign in charge in Cataluña saw him lead the club to their first La Liga crown in four years in the 1997-98 campaign, adding a Copa del Rey success in for good measure. Extensive coverage of those celebrations his hard to come by, but you can watch van Gaal embracing his inner Blaugrana (from 22 seconds) in addition to one or two of his more mental moments below.