Britons are getting on their bikes. This morning Halfords said that sales for the year had surpassed £1bn for the first time and the company's chairman Dennis Millard revealed later that it had sold 1.3 million bikes in the year, which works out at more than 3,500 a day.
The British cycling market is now thought to be worth upwards of £2bn, with retailers such as Wiggle, Evans and Chain Reaction also enjoying success. Figures from the Association of Cycle Traders show a 15% increase in the number of bike shops over the past decade and last year there was a 7% rise in the number of journeys taken by bike.
Why are more people cycling?
British sporting success has played a large part in the growth. Sir Bradley Wiggins' victories in the Tour de France and 2012 Olympics has helped bring the sporting aspect into national focus. The fact that the Tour de France began in Yorkshire last year also helped.
As a result, Halfords has seen sales of premium bikes – such as Boardman or Pinarello – rocket, with like-for-like sales up 25% in the category. At the top end of the scale, Boardman bikes can cost £8,000.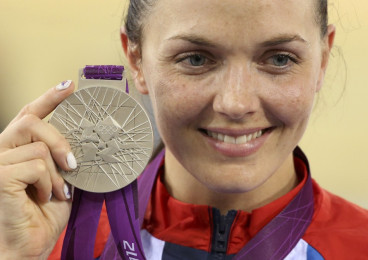 Alongside the specialist interest riders, there has been a huge rise in people opting to cycle to work, particularly in city centres.
Last year London broke new records for usage of the capital's Cycle Hire scheme and overall cycling. According to Transport for London (TfL), over 170,000 journeys are now being made each day within the Congestion Charge zone and bikes now make up around 16% of traffic in Central London, rising to around a quarter or even half of all journeys on some routes during peak hours.
It's not just London. Brighton & Hove, Manchester, Newcastle and Sheffield have also seen increased numbers.
This has had a knock on affect for retailers, and last month private equity got in on the act. Keen to tap into the boom, ECI Partners snapped up Evans Cycles in a deal worth around £100m. Bridgepoint, which owns Wiggle, is understood to be considering listing the online cycle retailer.
Bikes have also become popular presents, with Halfords reporting strong rises off the back of a TV advertising campaign over Christmas.
As more bikes hit Britain's pothole laden roads, repairs have also become big business. Halfords' in-store repair service income hit £26.7m last year.
"When you look at the trends from people doing it themselves to wanting somebody to do it for them, we're really well placed in that space," new Halfords chief executive Jill McDonald said.
Ranges and categories have also expanded rapidly, with a proliferation of accessories hitting shelves.
So confident is Halfords of the increased popularity of cycling, last year it reopened its specialist bike shop Cycle Republic after having closed it in 2009. Analysts believe it could add £200m to sales.
The company's share price is also riding high with Will Hedden of London Capital Group quipping: "Halfords shares are back on their bike once again, riding back up to £5 level not seen since 2010."