In 2017, there is no excuse for not using multi-factor authentication on every website that offers it. Twitter, one of the leading social media platforms, calls this "Login Verification" and it remains a must-have security measure to protect your account from hackers.
Over the years, countless celebrities, public figures and government departments have suffered Twitter hacks – from the funny (Britney Spears declaring her love for Satan) to the concerning (US Central Command being targeted by alleged Isis-linked attackers).
In 2016, hacked victims included Facebook chief Mark Zuckerberg, Google CEO Sundar Pichai, comedian Sarah Silverman, actor Channing Tatum and singer Katy Perry.
Even the deceased were hacked, with George Harrison and former "Jackass" star Ryan Dunn both targeted.
Most of these cases could have been prevented by two-factor authentication (2FA), which adds another layer of security by needing both a unique password and a six-digit code sent via mobile to log in to an account.
Before you can enable the verification you must confirm your email address and have a phone number connected to your account. To add a phone number, there will be an additional function available during "Step Two". Additionally, if you're using an iOS or Android device, you will have to download the iOS or Android Twitter app for the function to work.
Currently, Twitter remains limited to text-based 2FA. Please note that this is a method that can be vulnerable to so-called Man in the Middle (MitM) attacks, where your code is intercepted as it travels to your phone. Still, it's better than nothing at all.
Here is a step-by-step guide on how to set up and use the feature that will protect you while tweeting:
Step One: From your profile icon drop down menu, click Settings.

---
Step Two: Click on 'Security and privacy' and the checkbox 'Verify login requests'.

---
Step Three: Have a glance over how it works, click Start.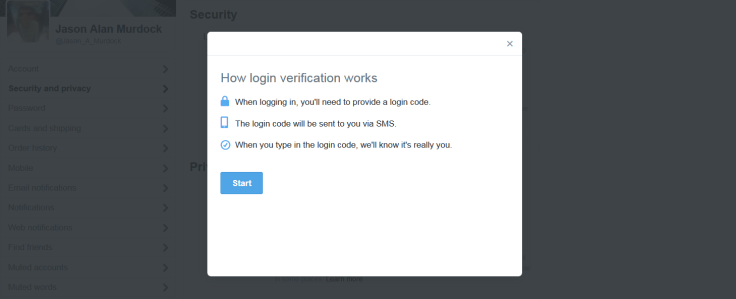 ---
Step Four: Enter your Twitter password to enroll for login verification.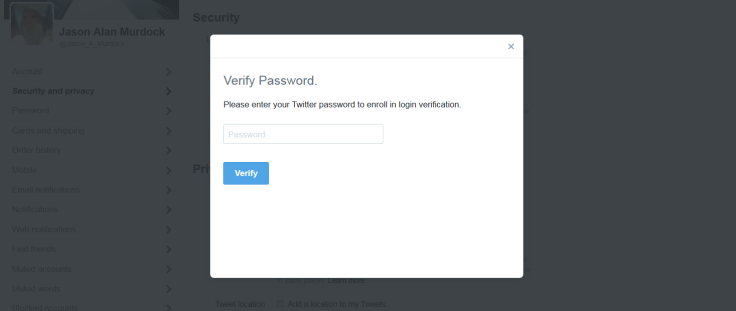 ---
Step Five: Make sure your mobile number is corrent, click Send code.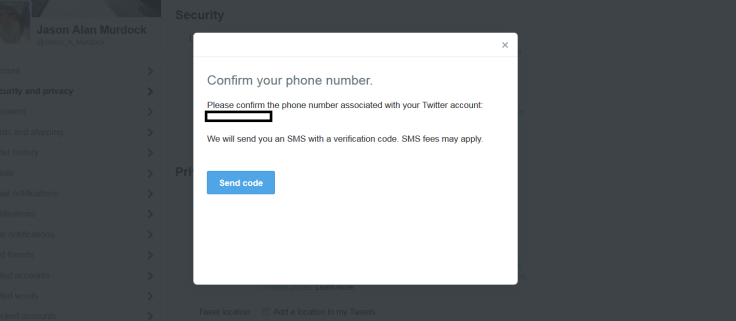 ---
Step Six: Enter the verification code sent to your device, then click Submit.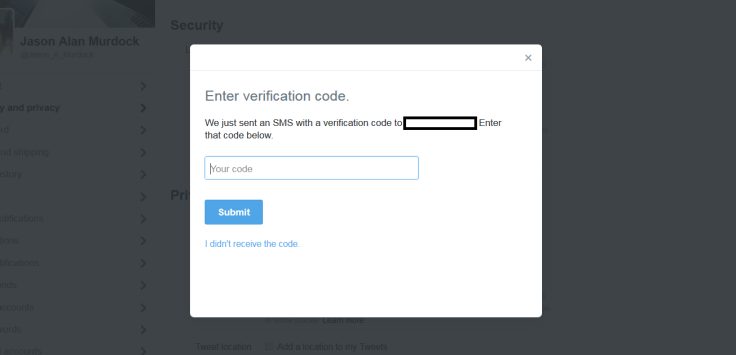 ---
Seven: You are now enrolled in two-step verification, select Get backup code.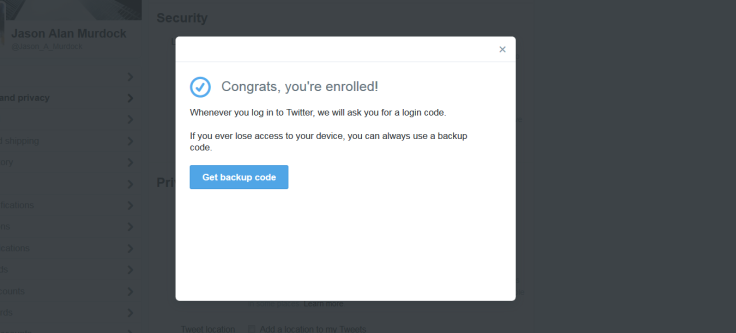 ---
Step Eight: Backup code will generate, make sure to save it for the future! Click Done.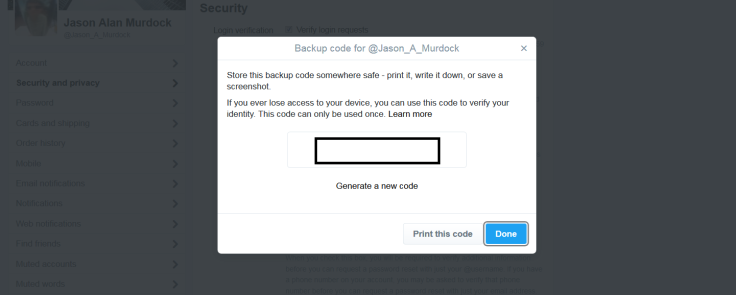 ---
You're done! Now, when you log in to your account on a six-digit login code will be sent to your movile phone via text message. Enter the code when prompted to access your account.
Additional tip: On the "Security and Privacy" page (see Step Two) there is a box that states "Require personal information to reset my password" – click it. Once activated, you will be made to verify more information about your account before any password can be changed on your profile.
On top of this, Twitter recommends a number of key cybersecurity best practices. These include using a strong password that isn't replicated on another website, being cautions of any suspicious links on the social network and making sure your computer software – and browser – are kept up-to-date with the latest updates.