HSBC is closing bank accounts owned by Finsbury Park Mosque, the place of worship previously linked to hook-handed hate preacher Abu Hamza, and a number of other Muslim organisations and individuals across the UK.
According to a raft of letters sent by HSBC, first reported by the BBC, the bank has deemed the mosque and other Muslim groups and individuals as too risky to do business with – or outside the bank's "risk appetite"- but the financial titan said decisions to close accounts were "absolutely not based on race or religion".
"We do not discuss relationships we may or may not have with a customer, nor confirm whether an individual or business is, or has been a customer," it added in a statement to IBTimes UK.
"Discrimination against customers on grounds of race or religion is immoral, unacceptable and illegal, and HSBC has comprehensive rules and policies in place to ensure race or religion are never factors in banking decisions."
Finsbury Park Mosque had not returned calls for additional comment by the time of publication.
Finsbury Park Mosque - Then and Now
In an interview with the BBC, one of the trustees of the mosque, Khalid Oumar said HSBC wrote to the North London place of worship on 22 July to alert them that the bank account would be closed on 22 September.
While the letter only cited one reason for the closure of the account - "the provision of banking services... now falls outside of our risk appetite" – Oumar has questioned what exactly that risk appetite is.
"The letters that have been sent and the letters that we received do not give any reason why the accounts were closed in the first place," said Oumar to the BBC.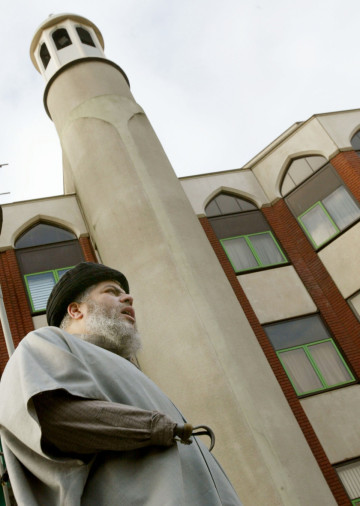 "That has led us to believe that the only reason this has happened is because of an Islamophobic campaign targeting Muslim charities in the UK."
Until 2005, hate preacher Abu Hamza ran the Finsbury Park Mosque and was jailed in 2004 for inciting racial hatred and encouraging Muslims to murder non-Muslims, following firebrand sermons at the place of worship.
This year, he was convicted of abetting terrorism on 11 charges, and faces life term in a US prison.
The Islamist cleric was charged with organising hostage-taking in Yemen in 1998 by providing satellite phone and instructions to militants. This resulted in the death of four tourists, including three Britons, who had been taken captive.
However, despite it being nine years since the mosque severed links with Abu Hamza, the group's chairman Mohammed Kozbar told the BBC: "The bank didn't even contact us beforehand. Didn't give us a chance even to address [their] concerns.
"For us it is astonishing - we are a charity operating in the UK, all our operations are here in the UK and we don't transfer any money out of the UK. All our operations are funded from funds within the UK."
In December 2012, HSBC was fined a record $1.9bn (£1.2bn, €1.4bn) by US prosecutors for failing to enforce rules designed to prevent the laundering of criminal cash.
The Department of Justice charged the bank with failing to maintain an effective programme against money laundering and conduct due diligence on certain accounts.
In documents filed in federal court in Brooklyn, it also charged the bank with violating sanctions laws by doing business with Iran, Libya, Sudan, Burma and Cuba.
HSBC admitted to a breakdown of controls and apologised for its conduct.