Growth in UK exports will be supported by emerging market demand over the next two years as Europe, Britain's main export market, continues to struggle.
According to HSBC's Global Connections Report, after a poor trade performance in 2012, prospects for UK exporters are now looking brighter, as future growth in trade is likely to be concentrated within the emerging market economies of Asia rather than the UK's traditional export partners in Europe.
HSBC says that UK merchandise exports to Asia are expected to expand by 9 percent annually between 2013 to 2015, more than double the average annual growth forecast for exports to Europe, which is expected to be just under 4 percent [Fig. 1]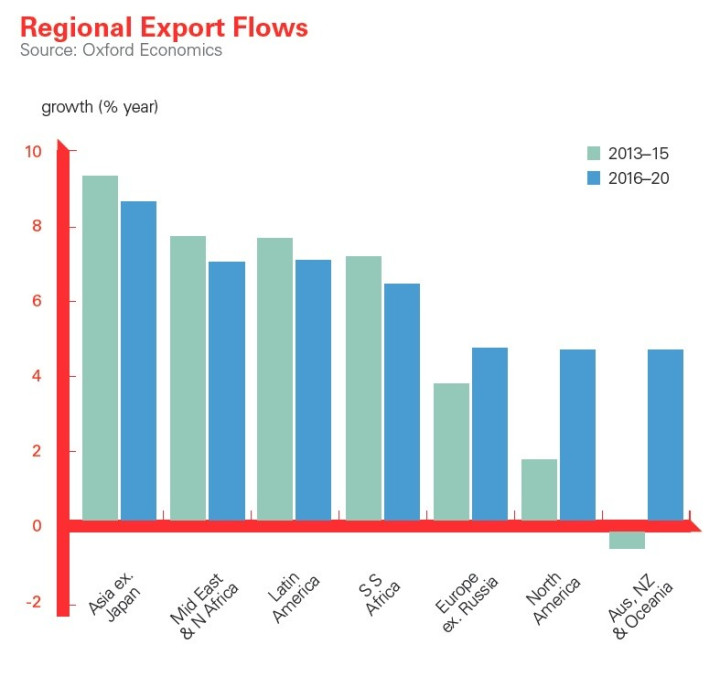 The Middle East and North Africa (MENA) region is also likely to provide a major boost to UK export expansion as HSBC forecasts an 8 percent rise each year until 2015. After this date, HSBC predicts a 7 percent annual rise for exports to MENA during 2016 to 2020 [Fig 2.]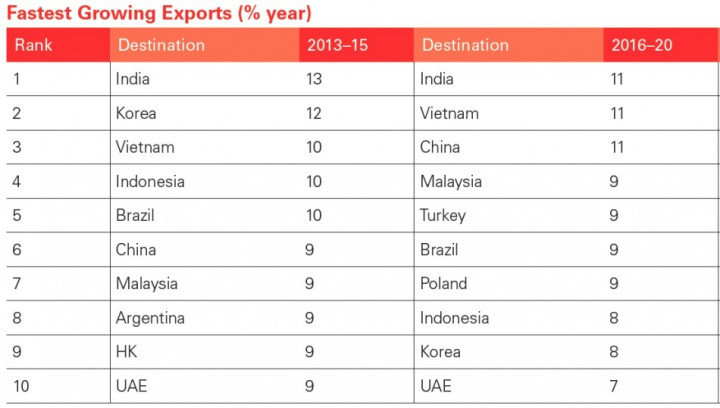 A similar pace of expansion is also expected for exports to Latin America, over this time period, led by increasing trade with Brazil.
Over the longer term, prospects for UK exports to Europe appear subdued, with annual growth averaging just 4 percent per year in the decade to 2030.
In mid-February this year, UK exports to Europe tumbled to their lowest value since August 2010, according to official figures from HMRC.
In the final quarter of 2012, the UK economy slumped to a -0.3 percent contraction amid flat growth in its powerhouse service sector and a continued decline in production, manufacturing, and construction.
However, HSBC emphasised that "nevertheless, trade links with Europe will remain very important for the UK economy, with Germany, France and Ireland all expected to remain the UK's top trading partners in 2030."
Emerging market trade support will be vital for the UK export market if it stands any chance of meeting Chancellor George Osborne's target of doubling the value of exports to £1tn by the end of the decade.
Official figures show the UK's seasonally adjusted trade deficit was £3.6bn (€4.4bn; $5.9bn) in October 2012.
A total of 19 "priority markets" have been highlighted by UKTI for the export opportunities they offer British business - and not one is in the EU, despite the area being the destination for half of all the country's outgoing trade.
The priorities are Brazil, China, Colombia, Egypt, Hong Kong, India, Indonesia, Malaysia, Mexico, Qatar, Russia, Saudi Arabia, Singapore, South Africa, South Korea, Taiwan, Turkey, UAE and Vietnam.
In terms of export goods, HSBC has highlighted how expansion will be increasingly driven by high-technology manufactured goods, as low-cost producers in the emerging markets satisfy an increasing share of global demand for less sophisticated products [Fig 3.]
"In fact, growth in just two sectors - industrial machinery and transport equipment - will account for around half of the forecast expansion in total exports over the years to 2030. Other important contributors to future growth include chemicals and pharmaceuticals, which will account for around 6 percent and 4 percent of overall growth respectively from 2016 to 2030," says the report.
"Despite several emerging market economies having already moved into traditional markets of the UK chemical industry, it is managing to remain internationally competitive by innovating new products, improving quality and driving up efficiency."