Recently HSBC Holdings Plc announced it has closed the transaction to sell its card and retail services business in the United States to Capital One Financial Corporation. The group received a cash consideration of $31.3 bn towards the transaction which was announced in August last year, including $2.5 bn based on a premium of 8.75 percent over the gross customer loan balances at 31 March 2012.
However, HSBC Bank USA continues to offer credit cards to its customers and is expected to sell its credit card programme of $0.4 billion to First Niagara Bank N.A in the second quarter of 2012. The group is scheduled to release its first quarter interim management statement on Tuesday.
Last month, the global banking and financial services organisation announced 3,167 job cuts in Britain targeting senior and middle management roles, out of which, around 1,000 employees will be re-deployed to other jobs. The move is directed to cut costs and boost profitability in the face of a changing banking landscape. The net job loss will be 2,217.
"There is no justification for this awful treatment of staff. How can the bank announce 3,167 staff cuts when it was the workforce that delivered it a profit of 13.8 billion pounds last year?" said David Fleming of Unite.
For the FY 2011, HSBC Holdings Plc posted a rise of 15 percent in its pre-tax profits of $21.9 billion, against the analysts' forecast of $22.2 billion and the best by a western bank so far. The group expects growth in Asia and other emerging markets would compensate weak European economies this year.
HSBC generated a return on shareholders' equity of 10.9 percent during 2011 and it expects that by the end of 2012 it will develop a clear route towards meeting its target of 12-15 percent by the end of 2013.
The group has committed $15 million for next five years to develop Future First, the HSBC's flagship global education programme that aims to deal with child poverty through education projects. $10 million will be allocated to projects developed in partnership with NGOs around the world with $5 million set aside for SOS Children's Villages projects, the world's largest NGO for orphans, including in the African continent.
The board remains committed to meeting its targets and is responding to the more challenging environment with even more determination and a greater focus on implementation. By the end of 2013, it will have reshaped HSBC.
Below is a summary of sector comparisons in terms of price earnings, earnings per share, dividend per share, dividend yields, return on equity and price-to-book ratio. The table explains how the company is performing against its peers/competitors in the sector. The table below represents top eight companies based on market capitalisation.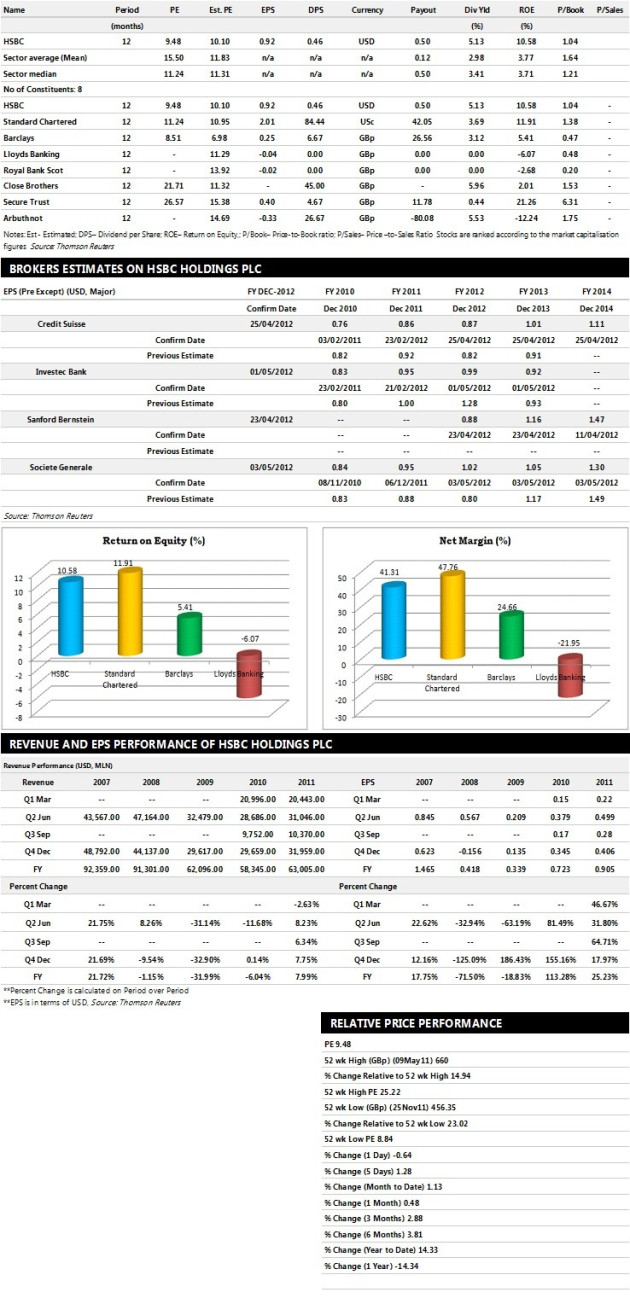 Brokers' Views:

- Societe Generale assigns 'Outperform' rating
- Investec Bank assigns 'Hold' rating
- Sanford Bernstein recommends 'Buy' rating
- Deutsche Bank cuts price target to 628p from 645p and gives 'Buy' rating
Earnings Outlook:

- Societe Generale estimates the company to report revenues of $72,058 million and $70,696 million for the FY 2012 and FY 2013 respectively with pre-tax profits (pre-except) of $26,850 million and $28,152 million. Earnings per share are projected at $1.02 for FY 2012 and $1.05 for FY 2013.
- Investec Bank projects the company to record revenues of $71,622.80 million for the FY 2012 and $70,033.50 million for the FY 2013 with pre-tax profits (pre-except) of $23,864 million and $22,9441.50 million respectively. Profit per share is estimated at 98.80 cents and 92.20 cents for the same periods.
- Sanford Bernstein expects HSBC Holdings to earn revenues of $71,171 million for the FY 2012 and $76,633 million for the FY 2013 with pre-tax profits of $22,671 million and $28,924 million respectively. EPS is projected at 88.30 cents for FY 2012 and $1.16 for FY 2013.