HTC has announced the flagship One smartphone, with a 4.7in full HD screen, quad-core processor, and an 'UltraPixel' camera, which has larger pixels than normal and can capture three times more light for higher quality images.
Launched at joint New York and London events, the HTC One was one of the worst kept secrets in the technology world so far this year, after countless leaks revealed its design, specifications and M7 codename weeks in advance of the announcement today.
Finished in aluminium, the front of the HTC One is dominated by the large 4.7in display, which has a full HD resolution of 1080 x 1920, resulting in a pixel density of 468 pixels per inch, way more than the 326ppi of the iPhone 5, making for an incredibly sharp display.
HTC has said a lot about the One's camera, which features a new technology the company is calling UltraPixel. Using a custom-made image sensor, the One's enlarged pixels can capture three times more light than those inside a conventional 8-megapixel camera.
This technology will dramatically improve the HTC One's low-light performance - a trick the Nokia Lumia 920 can also pull off, thanks to its floating lens technology.
The technology looks impressive, but means that images taken with the One are limited to four megapixels, so while you won't be printing them onto huge posters they will still look good, and should remain small in terms of file size.
As with the Lumia 920, the HTC One also features optical image stabilisation to help reduce blur caused by movement - further improving low-light performance; unlike the Nokia, HTC has fitted OIS to the front-facing camera as well as the rear, so video calls will be silky-smooth.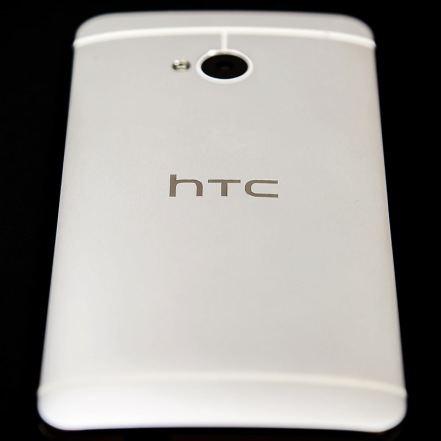 Focusing on the camera, HTC has also included full HD video recording, as well as HDR recording, which will help to produce better quality video in situations with high and low light in the same shot.
As with all recent HTC smartphones, the One gets Beats Audio to apparently improve music quality. Sound comes from dual front-facing speakers - a much better option that hiding a single speaker around the back, as most smartphones do; HTC claims that these speakers have the largest chambers of any speakers ever fitted to a smartphone.
As for recording sound, the One has two mics and can record high dynamic range (HDR) audio, which will hopefully make audio recordings clearer in very loud and quiet situations.
Sense 5
Named Sense 5, HTC has updated its Android skin to include BlinkFeed, an aggregator for news and social media feeds similar to the popular Flipboard app.
The One is powered by a non-removeable 2,300mAh battery and has the 800/1800/2600 MHz bands, meaning it'll work with all 4G networking in the UK, including EE's and upcoming networks from Vodafone, O2 and others.
Inside the One has everything you would expect from a flagship smartphone. There's NFC, GPS, Bluetooth 4.0, 802.11ac Wi-Fi and there's even an infrared blaster to use as a TV remote.
The HTC One will be available in silver and black, starting mid-March. In the UK it will be available on all major networks, including EE, Vodafone, O2 and Three.