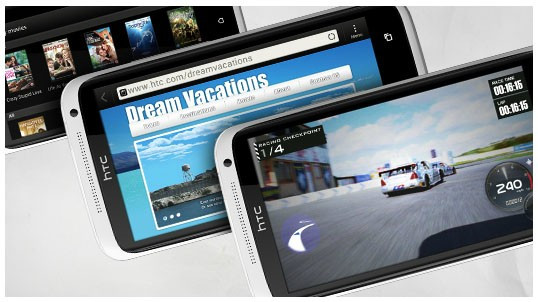 The HTC One X will be getting an Android 4.0.4 Ice Cream Sandwich (ICS) update, according to The Christian Post. The update is expected to increase the gaming performance on the smartphone. Probably, the update will be the most challenging factor which will result in a fierce competition with the Samsung Galaxy S3.
ROM developer and an XDA user Football have received a test version of the leaked firmware, according to KIT Guru. The latest update will be 2.05.401.2 which is expected to be noticeable over the current 1.29.401.111. Moreover, the Android version will be upgraded to the latest 4.0.4 which is certain to feature a few stability improvements along with updated Kernels, radios and software drivers. According to reports, the early adopters of the latest ROM are impressed with better web browsing, tweaked auto brightness settings, smoother user interface (UI) and faster unlock speeds. In addition, the gaming performance seems to be better. The overall battery life improvement is still uncertain. There is no official announcement about the updates's release but it is expected to be within the "next fortnight".
The HTC One X has been a tough competitor to the Galaxy S3 with its powerful specs. "HTC is hoping to remedy this and in the process close the gap between their own flagship and Samsung's Galaxy S III with a upcoming firmware update," elaborates KIT Guru.
Since the HTC One X's release this will be the second update for the smartphone. The first one was meant to correct the issue, One X users were facing regarding Wi-Fi connectivity. "After investigating isolated reports of Wi-Fi connectivity issues in the HTC One X, we have identified a fix that strengthens the area of the phone around the Wi-Fi antennae connection points. While many customers have not experienced any problems with signal strength, we have taken immediate steps to implement a solution in our production process to prevent this issue from happening in the future. HTC is committed to making sure every customer has a great experience and we apologize for any inconvenience this issue may have caused while we conducted a thorough investigation," HTC Europe told Android Central.