The international variant of HTC One X and One S will be getting the new menu button option, according to reports.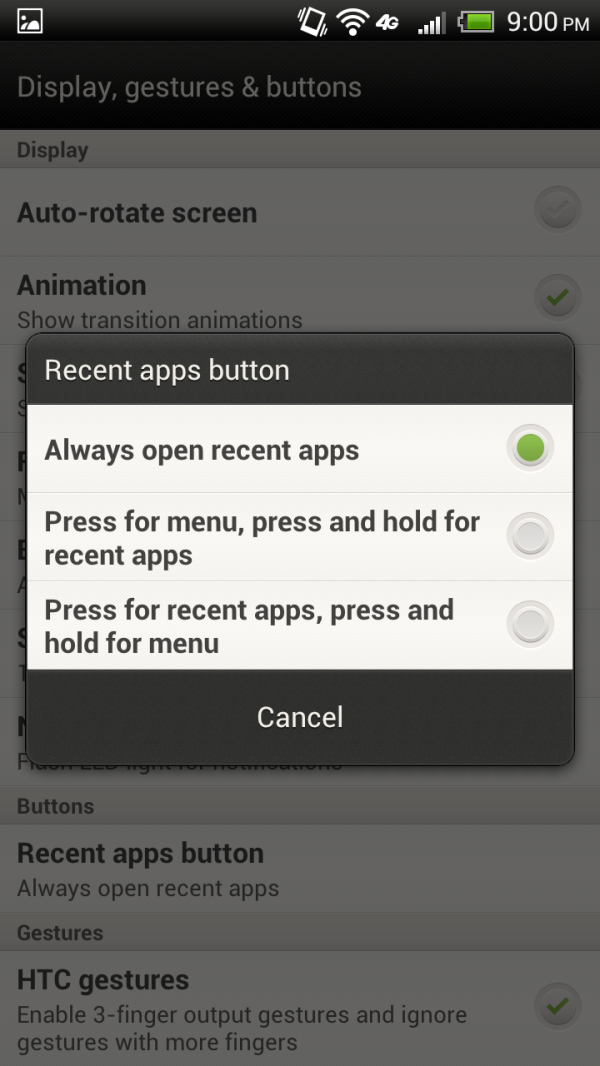 Recently, AT&T's HTC One X received an update that offers an option within settings to get rid of the black bar. Instead the user can "long-press" the multitasking button to pop up the menu, according to The Verge. Similar to that, the international variant of One X and One S devices will be getting the update that will add the option to re-purpose the task switcher button, according to AnandTech. Yet, there is no official word about the other Ones or the Evo 4G LTE.
As we know, the HTC One series comes with three buttons such as back, home and task switcher as capacitive buttons at the bottom of the display, while other devices such as Galaxy Nexus come with on-screen buttons. All the three navigation buttons are needed in Android 4.0 (Ice Cream Sandwich), while there are several apps which have to be upgraded to make use of the on-screen button and still need the universal button. For such apps, the One series shows up a black bar at the bottom of the screen which will serve as a menu button. With the update users can have the benefit of every pixel of the screen when they use the apps which are yet to be updated to support the new system, according to Phandroid. According to AnandTech, users can opt to have the task switcher button as a menu button, with long press that will activate the switcher. "This is a much needed change that remedies probably the most outstanding user complaint," claims the site.
The HTC One X and One S were unveiled at the Mobile World Congress (MWC) 2012. Both smartphones will be getting the Jelly Bean update, though the exact date is yet to be confirmed. The Taiwanese phone maker has confirmed rollout of the update for the smartphones. Slash Gear has received the official statement from HTC saying: "We know HTC fans are excited to get their hands on Google's latest version of Android. At this point in time, we can confirm that we have plans to upgrade our HTC One X, HTC One XL and HTC One S to Jelly Bean. Please stay tuned for more updates regarding device upgrades, timing and other details about HTC and Jelly Bean."