A leaked NenaMark2 benchmark has revealed the specifications of the unannounced HTC One X+ smartphone, carrying the model number PM63100.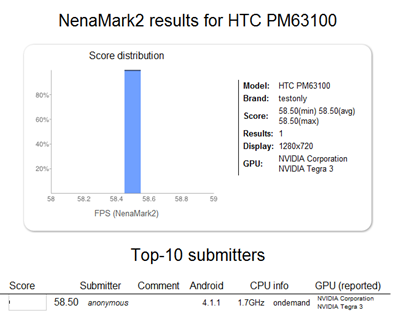 The HTC One X+ that has popped up as a NenaMark2 benchmark shows it is powered by Nvidia's Tegra 3 chipset clocked at 1.7GHz. The device is running Android 4.1.1 Jelly Bean and sports a display with a resolution of 1280 x 720 pixels.
Speculation is rife that the One X+ could arrive on T-Mobile sometime in September, according to SlashGear. In addition to T-Mobile, the unannounced device which is also known as HTC Evitaire, is expected to hit AT&T, according to LandofLord. No official announcement regarding HTC One X+ has yet been made.
SlashGear notes that except for the increase in processing power and Jelly Bean, the One X+ will be "more or less the same" as One X. The international variant of One X is powered by a 1.5GHz quad-core processor, slightly slower than the One X+'s 1.7GHz.
HTC's One X is a global hit. It has a display with a resolution of 1280 x 720 pixels and runs the Ice Cream Sandwich (ICS) operating system rather than Jelly Bean, though an update is planned.
HTC has confirmed rollout of the Jelly Bean update for three of its flagship smartphones - One X, One S and One XL. SlashGear has received an official statement from HTC saying: "We know fans are excited to get their hands on Google's latest version of Android. At this point in time, we can confirm that we have plans to upgrade our HTC One X, HTC One XL and HTC One S to Jelly Bean." No exact date has yet been provided. "Please stay tuned for more updates regarding device upgrades, timing and other details about HTC and Jelly Bean."