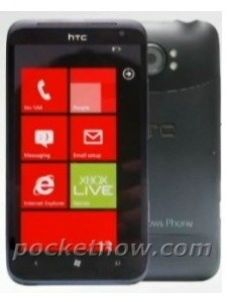 New reports suggest phone-giant HTC is set to follow up its Titan and Radar handsets with a new high-end Windows Phone.
Reportedly named the Radiant, news of the new HTC Windows Phone broke via mobile industry site Phones4U on Thursday. Despite a lack of official word from HTC, as well as the device's existence, the site alleged to have knowledge of its tech spec.
Citing a fuzzy Pocketnow "leaked" photo, Phones4U reported that, unlike most of HTC's other handsets, the Radiant will have a three-piece body. Additionally, the unit will retain the same 4.7-inch screen and dual-LED flash unit as seen on the company's existing Titan Windows Phone.
Past this, details of the unconfirmed device remain vague, though numerous media outlets have reported expecting to see the device at the 2012 Consumer Electronics Show, which starts on January 10. If true, then Google and Apple may be set to face a two pronged assault by Microsoft's Windows Phone at the event, with Nokia's fabled Lumia 900 also rumoured to make an appearance at CES.
GSM Arena reported on Wednesday it had gained confirmation not just of the new Lumia's presence at CES, but also certain details regarding its tech spec. Specifically, GSM Arena reported that the new 900 will be released packing a 1.4GHz Scorpion CPU, 512MB of RAM and 4.3-inch screen. Moving on to the physical plane, GSM Arena also reported the device would weigh around 160 grams and be around 12mm thick.
Unfortunately, all this currently remains firmly rooted in the realm of fantasy, with neither Nokia nor HTC confirming the existence - let alone any details - of either device. At the time of writing Nokia and HTC representatives had not responded to the International Business Times UK's requests for comment.