Key Features
4.7in screen (720 x 1280)

6.2mm thin; weighs 120g

8 megapixel camera

Android 4.2.2

Price as Reviewed: £300
Introduction
Huawei wants a seat at the big boys' table in the smartphone world. It has made huge strides in recent years by selling low-end, cheap-but-decent Android smartphones in their millions, mostly in its home market of China.
Now however it is looking to move onto the next level and so it has given us the "world's thinnest smartphone" in the shape of the Huawei Ascend P6. It has a premium, mostly metal finish, a great screen and while it bears a striking resemblance to the iPhone 5, it can be had for less than £300 SIM free.
So, that's it then? Huawei has done it, produced a premium phone at a budget price? Well, not quite. There is a very big reason no one else has produced a smartphone which is this thin, and while on the outside the P6 appears to have succeeded, turn it on and things get a whole lot uglier.
Huawei Ascend P6 - Look and feel
From the slick packaging to the excellent finish, the Huawei Ascend P6 doesn't disappoint on first viewing. Slim (6.2mm) and light (120g) the phone looks like someone has taken an iPhone 5 and smooshed it to make it thinner and bigger.
The silver metal band around the edge of the phone has been lifted directly from the iPhone's design manual and while
The phone's 4.7in screen size is perfectly usable in one hand and the phone feels well-made and while there was some flex on the rear panel of my review model, it was nothing to get too worried about.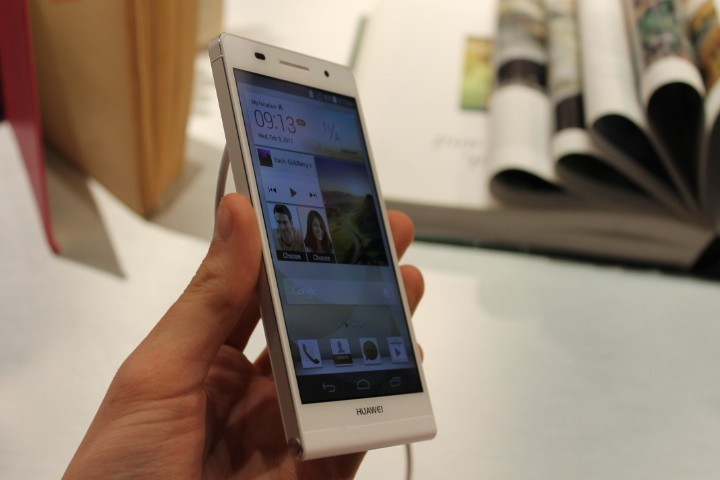 The rear panel on our white model also became grimy easily but a quick wipe of a cloth solved this issue.
The main issues in terms of design come from the placement of the headphone jack. The bottom of the P6 has a rounded edge (housing the antenna) and someone at Huawei decided that putting the headphone jack on the left-hand edge of this was a good idea. It wasn't, and is very annoying for left-handers like me as well as when you put your phone in your pocket.
Huawei Ascend P6 - Display
The 4.7in screen uses IPS technology and has a resolution of 720 x 1,280 pixels giving it a sharp pixel density of 321 pixels per inch (ppi) - which is almost identical to the iPhone 5 (326ppi)
Because of the IPS technology, the screen looks natural and not over-exposed. It also has good viewing angles. A neat touch is the ability to alter the warmth of your screen depending on what you favour - warm, cold or neutral.
Huawei Ascend P6 - Performance
The P6 is powered by a quad-core 1.5GHz CPU on Huawei's own chipset. This is paired with 2GB of RAM and on paper should provide a decent combination to power a modern smartphone. Unfortunately it doesn't.
The interface and performance were slow and buggy. Apps continually crashed, and while some of that is down to the phone itself, these are apps I've used on other phones with absolutely no problems.
As an example of the poor performance, the phone could not handle playing Candy Crush Saga. This is not a graphically intense 3D game, it is a simple puzzler that I would expect ANY Android phone to be able to handle.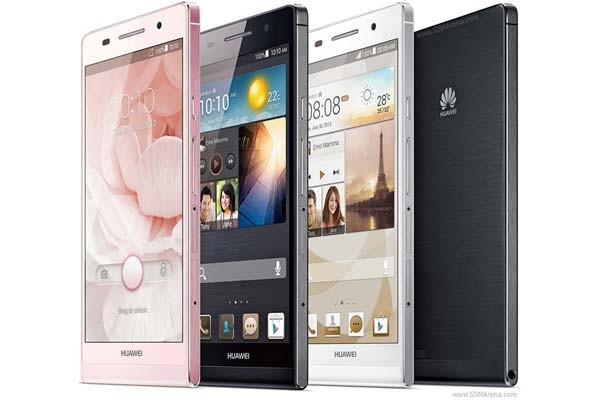 I'm not sure what has gone wrong here, but my assumption is that the lack of internal space is something to do with the poor performance. This is backed up by the fact that an extended period of intense use (watching video, playing games etc) sees the rear of the phone heat up to an almost unbearable level.
Huawei Ascend P6 - Battery life
Another downside of a super thin phone is it limits the size of the battery you can use. The Ascend P6 has a 200mAh battery but despite the seemingly large size, I found that by midday I was getting messages on the phone to tell me my battery was running out.
If I nursed the phone through the day, I could just about get it to 6pm before a charge was needed, but on a number of occasions over the two weeks I used the phone, it ran out of power before 4pm.
Huawei Ascend P6 - Camera
The Ascend P6 features and 8 megapixel camera which is perfectly serviceable but when compared to the premium Android smartphones on the market - HTC One and Galaxy S4 - it falls someway short, not to mention when compared to the Nokia 925 or 1020.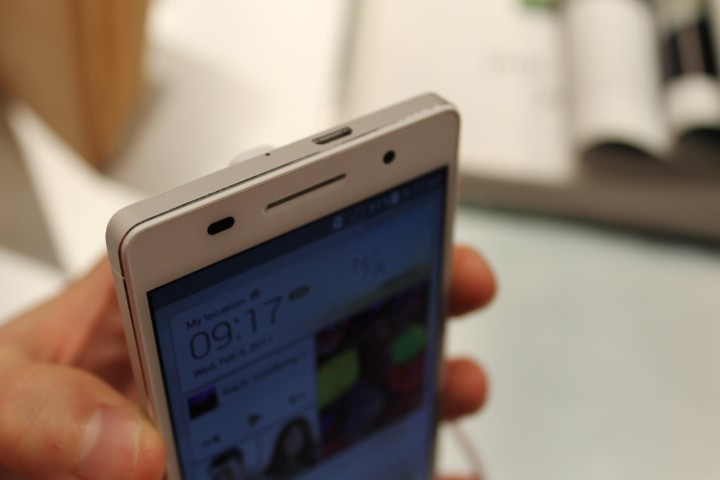 When compared to phones closer to its own price range however, such as the HTC One mini, the P6 does stand up to scrutiny, and in good lighting conditions produces images with vibrant colours and fine detail. Low light performance is not so great and the flash tends to overexpose.
Huawei Ascend P6 - Software
While performance and battery life are obviously affected by the limitations put on the phone by being the thinnest in the world, I have a feeling that the heavily modified software is not helping things.
As more and more manufacturers are looking at providing a pure Android experience - look at the Google Editions of the Galaxy S4 and HTC One - it seems as if Huawei is moving in the other direction.
While it is clear that this is an Android device, Huawei has heavily customised the interface with its own proprietary skin altering the look and feel significantly. While it in itself isn't ugly and there are a number of themes you can choose from, I simply don't see the added value for Huawei doing this.
The so-called Emotion OS tries to create a seamless collection of apps and widgets rather than having separate home screens and app drawer - kind of like the iOS interface. However it falls short of this and ends up being neither one thing or the other.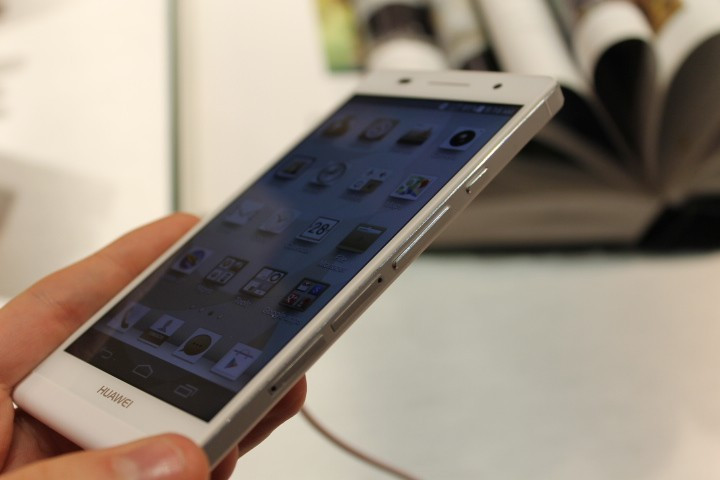 Because Huawei has dumped so many of its own apps on the home page it takes quite a bit of work to get it looking and working the way you want, which shouldn't be the case in this day and age.
Huawei Ascend P6 - Verdict
The Huawei Ascend is available at the moment on Amazon for just £250 which is a very low price indeed for phone which has the moniker "world's thinnest."
But simply being the world's thinnest is nowhere near enough to make it a good smartphone. In fact being the thinnest smartphone around has caused it so many problems (performance, overheating, terrible battery life) that it simply fails on many levels.
Yes it has a great screen; yes it has a decent camera; yes it is well designed and built; but none of these matter when you can't use the phone properly on a day-to-day basis.
Huawei need to forget about the race to be the thinnest, or the lightest, or the fastest and think of its customers instead and build a phone that just works.
Scores
Overall 6/10
Design 8/10
Performance 5/10
Screen 9/10
Battery 5/10
Value 7/10
The Good
Slim and light design with decent build quality
Excellent screen
The Bad
Terrible battery life
Poor performance for quad-core smartphone
Overheats a lot during intense use