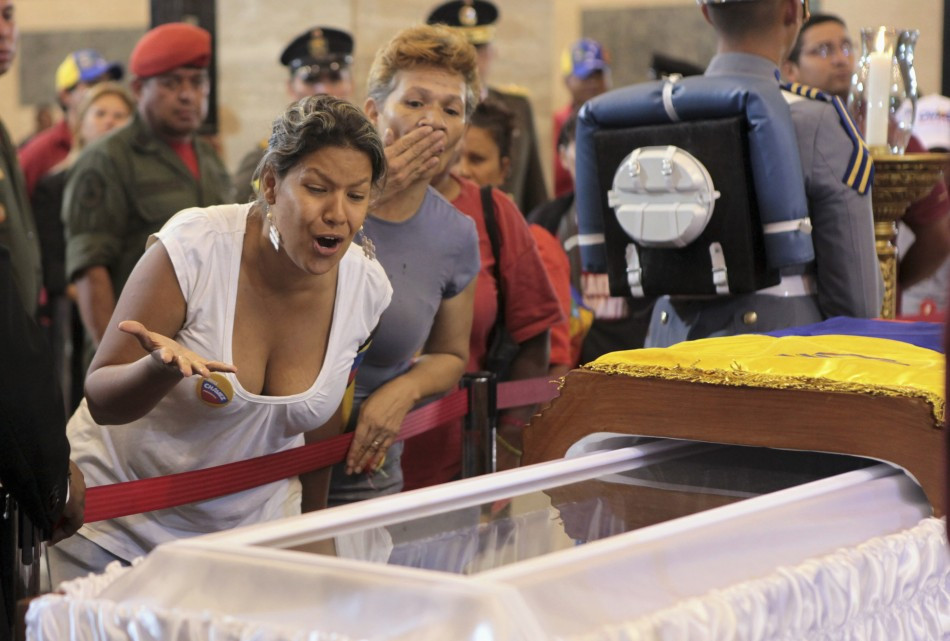 Hundreds of Venezuelan mourners queued for hours to pay tribute to the country's late leader, Hugo Chavez, in the last hours before his funeral.
The body of Chavez, who died at the age of 58, has been lying in state at the military academy in Caracas prior to burial on Friday at 10am local time (2.30 GMT).
"I waited 10 hours to see him but I am very happy, proud to have seen my commandante," said 46-year-old Yudeth Hurtado. "He is planted in our heart."
Chavez's coffin was carried to the military academy at the end of an emotional 8km procession through the streets of Caracas.
Mourners queued at the building to get a glimpse of his body in its glass-covered coffin. He is dressed in an olive-green military uniform and red beret.
Every hour cannons fire to commemorate his 14-year rule, which ended when he lost his battle with cancer after a long spell in hospital in Cuba.
"He couldn't speak but he said it with his lips: 'I don't want to die. Please don't let me die' because he loved his country, he sacrificed himself for his country," the head of Venezuela's presidential guard, Gen Jose Ornella said of Chavez's last moments.
President Evo Morales of Bolivia and his Argentinian and Uruguayan counterparts, Cristina Fernández de Kirchner and José Mujica, have arrived in Caracas for the funeral.
Numerous world leaders, including Iranian president Mahmoud Ahmadinejad are also expected.
Chavez's supporters are pushing for him to be buried alongside his hero and political model, 19th Century independence leader Simon Bolivar, in the mausoleum in Caracas.
Chavez's "Bolivarian" economic policies for an independent Latin America free from US influence gained him a grave in Venezuela's national pantheon, his supporters say.
However, under Venezuela's constitution, even the most celebrated citizen cannot be admitted into the presence of Bolivar until 25 years after death.
READ:
Why Hugo Chavez Reforms Helped Latin America to Stand up
Hugo Chavez: How Death of Venezuelan Leader will Affect Oil Industry [BLOG]