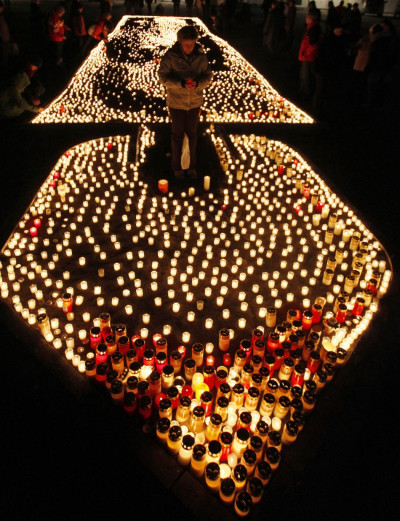 Thousands of people have blocked a neo-Nazi march in the German city of Dresden, where events to mark the anniversary of the mass bombing of the city by Allied forces in the Second World War were held.
At least 13,000 people, including high-profile politicians such as parliamentary deputy president Wolfgang Thierse and Saxony's state premier Stanislaw Tillich, formed a 3.6km human chain to halt the extremist rally and prevent it from reaching the city centre.
"The commemoration must look not only at what happened but what continues to happen," Dresden mayor Dirk Hilbert said.
Allied forces bombed Dresden in February 1945, killing up to 25,000 people, mostly civilians.
Neo-Nazi movements have used the anniversary to protest against the bombing and depict it as a war crime. Only 1,600 activists, according to figures released by the police, showed up for what they call a "Trauermarsch," or funeral march, in memory of the victims of the firebombing, down from the 6,000 people who marched last year.
An anti-Nazi torchlit march of around 2,000 protesters, including leftists, centrists, students and ordinary people, was escorted by police. No violence was reported.
Throughout the day, religious and commemorative sermons were held to remember the many millions who suffered at the hands of Nazi Germany.
The destruction of Dresden sparked a debate about whether breaking public morale through the raids was justifiable since the defeat of Hitler's Nazis was imminent by then.