Human rights groups in Indonesia criticised a new government decree that allows banning organisations deemed to be in conflict with the country's secular and pluralist ideology. They also slammed the decision to ban hardline Islamist group Hizbut Tahrir Indonesia.
The government's decision is said to have been triggered by rising incidents of violence against religious minorities and people from the LGBT community.
The recent removal of Jakarta's minority Christian governor – who was accused of blasphemy charges – also served as a reason, media reports said.
The protesting groups argued that the new legislation could be used to crack down on Islamist groups that are striving to establish Sharia law in the Muslim-majority nation.
The decree reportedly states that civil organisations are "not allowed to carry out activities that are the responsibility of law enforcement officials" and any organisation found flouting the conditions can be banned without going to court.
"This decree is proof that this regime is repressive, authoritarian, and even repeating what the New Order regime did," Ismail Yusanto, spokesman for Hizbut Tahrir Indonesia, said on Wednesday (12 July), two days after President Joko Widodo signed the decree.
Yusanto was referring to the rule of former Indonesian president Suharto, who encouraged secular state ideology, called Pancasila (or five principles), during his 32-year rule and was never in favour of religious organisations, Reuters wrote.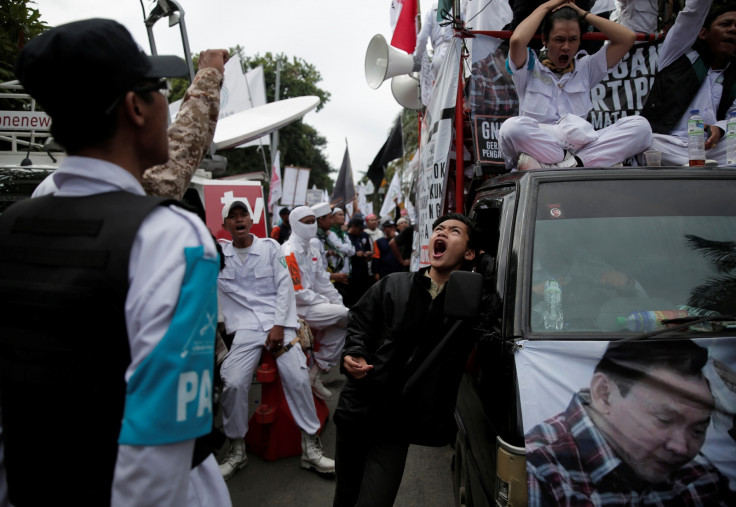 The New York-based Human Rights Watch also criticised the current government for disbanding Hizbut Tahrir Indonesia and called it a "draconian action".
"Banning any organisation strictly on ideological grounds is a draconian action that undermines freedom of association and expression, rights that Indonesians have fought hard to establish since the Suharto dictatorship," Andreas Harsono, a researcher with the group, reportedly said in a statement.
However, chief security minister Wiranto told reporters on Wednesday that the decree is not aimed at Islamic organisations in particular and the move was backed by Indonesia's biggest moderate Islamic groups.
"It must be underscored that this decree is not intended to discredit Islamic organisations or the majority Muslim population of Indonesia. It has been issued in the national interest," he said.