Prosecutors in Indonesia are calling for Basuki Tjahaja Purnama, the Chinese Christian governor of Jakarta, to be jailed for one year over allegations that he committed blasphemy. It comes a day after the incumbent governor was heading for defeat in the gubernatorial elections against a Muslim opponent.
Purnama has been defending himself in court against accusations that he insulted the Quran. An Indonesian court is holding a trial on the high-profile blasphemy case on Thursday (20 April) after prosecutors last week sought postponement of the trial until after the run-off election on Wednesday. They wanted more time to prepare their submissions related to charges.
"We call for the judge to sentence the defendant to one year in prison...for expressing hate or insult toward a section of the Indonesian people," chief prosecutor Ali Mukartono said on Thursday (20 April).
"We also call for an added two years probation period," he said. It means that if Purnama repeats the offence during that period he should face one year in prison, Reuters noted.
The trial centres on remarks that Purnama, also known by his Chinese name Ahok, made in September 2016. Massive protests erupted across the capital for a few weeks in November and December as angry demonstrators demanded his resignation and subsequent arrest.
Hardline Muslim groups alleged that the governor had insulted Islam and dishonoured the Quran by quoting a verse during his campaign to boost his chances of winning the governor's post for a second term. Although Purnama apologised for passing offending remarks, he denied committing blasphemy.
Reuters reported that members of some Muslim groups were angry with the prosecutor's call. Hundreds of them reportedly gathered outside the court as they felt the one-year jail term - as put forth by the prosecution - was "not enough" for Purnama.
The 50-year-old incumbent governor might face a jail term of up to five years if found guilty.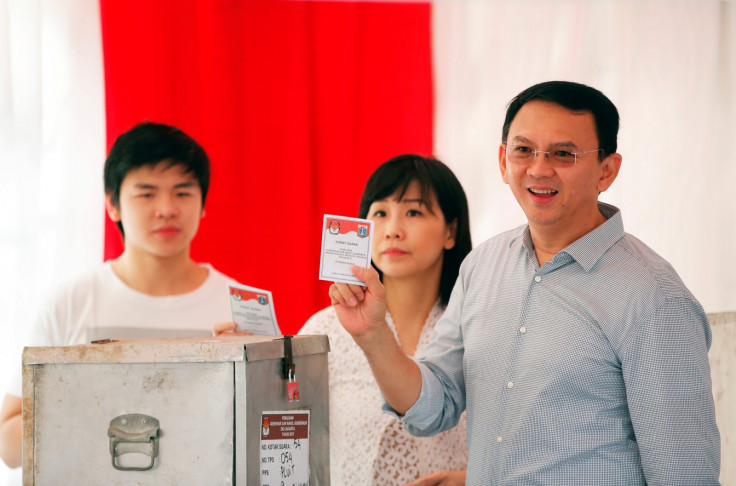 Purnama is Jakarta's first ethnic Chinese and Christian leader whose term ends in six months. In a bitterly fought second and final round of elections on 19 April, he is reported to have been defeated by his Muslim rival Anies Rasyid Baswedan, a former education minister, several quick counts showed.
Reports suggested that Purnama conceded defeat following the divisive election that was marred by religious tensions.
The official results are expected to be released in May.