Egyptian rescue workers have recovered 170 bodies from the Mediterranean after a migrant vessel carrying at least 600 capsized off the coast near a village in Beheira province. Officials have said the death toll from the wreck is expected to rise after it appeared a large number of passengers became stuck in a refrigeration unit in the vessel.
The boat was reported to have overturned as it was overloaded. The vessel is now believed to have sunk to a depth of 15 meters (49ft), about 18km (11 miles) from Egyptian shores.
BP, which operates offshore drilling sites in the area has sent a specialised ship to the site to help lift the 80-ton boat, the Associated Press reported.
Some 206,400 migrants and refugees have crossed the Mediterranean this year, according to the International Organisation for Migration (IOM) but crossings from Egypt remain relatively rare. Roughly 2,000 recorded as having crossed from the Arab republic over the same period.
Joel Millman, a spokesman for the IOM, told IBTimes UK at the time of the wrecakge on 21 September that the number of crossings were up, as too were the number of refugees arriving from Egypt. "Egypt as a departure point is a little more commonplace than it was, but still dwarfed by Libya. We've seen leaving Egyptians in larger numbers arriving in Italy," he said.
"We have also been cautioned over the years that many people who say they are Egyptian or have Egyptian documents aren't," he added.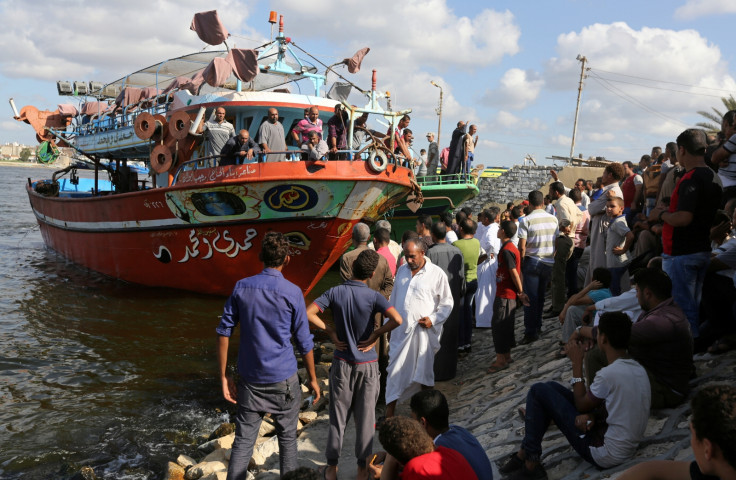 The rise in boats leaving Egypt is not the result of people smugglers expanding from war-torn Libya but is simply the result of more refugees arriving there. "We believe that what we see in all of these countries, across the Mediterranean and pretty much across the world, is that migrants are using criminals of their own nationalities and ethnicities," Millman said.
"Generally those people who control the coast are from organised crime groups in the actual countries they are leaving from," he added.
Some 320 migrants and refugees drowned off the Greek island of Crete in June. Migrants who survived told authorities their boat set sail from Egypt.
It is not known where this most recent vessel was headed. Refugees and migrants have moved between Cyprus, Malta and Turkey from Egypt, as well as hoping to reach Italy. It is believed many who leave the country are never properly tracked.