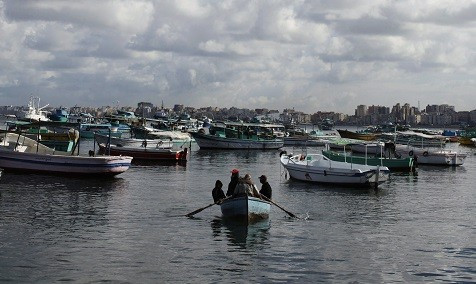 At least 12 migrants have died and 116 have been rescued after a boat carrying refugees capsized of the coast of the Egyptian port of Alexandria.
The boat, which was carrying mainly Syrians and Palestinians, sank as it travelled across the Mediterranean Sea from the port of Egypt's second-largest city.
Naval vessels are still searching for survivors. Most of the passengers on board the boat were illegal immigrants attempting to travel to Europe via Egypt.
The coast guard managed to rescue 116 passengers, including 40 Syrian refugees, 72 Palestinians and four Egyptians, according to Egyptian media. All were taken to a naval base.
At least 50 passengers are still to be accounted for.
Egypt has taken in more than 100,000 Syrians since civil war broke in their country.
The incident occurred a week after at least 319 migrants died after a boat travelling from Libya caught fire and sank of the coast of the Italian island of Lampedusa.
Of the 500 migrants who were on the boats, mostly Somalis and Eritreans, only 155 survived. A search for the remaining passengers continues.
Eritrea - dubbed the North Korea of Africa becasue of its authoritarian government - blamed the US for the deaths of the refugees.
"The prime responsibility for the gross loss of human life, as verified by concrete evidences, squarely rests on the US Administration that assigns agents of international and regional bodies, in addition to deploying various officials and spy agencies of different governments," a statement by the government of Eritrea said.