A migrant boat carrying almost 600 people from Egypt, the new hotspot for people smugglers, has capsized in the Mediterranean Sea, killing 43 people. Those on board were Egyptian, Eritrean, Sudanese and Somali refugees. It was not clear where the boat was travelling to, but it was thought to be Italy.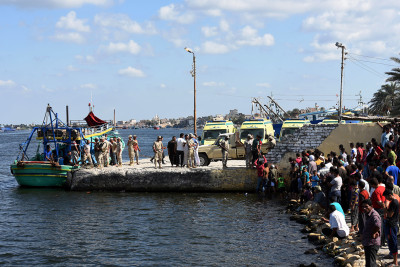 Survivors were detained before being taken to a nearby hospital in Rosetta and were handcuffed to their beds as they received medical attention. Others were taken to a police station, awaiting news as to what will happen to them next. Dozens of family members of those who had been on board gathered at a coastguard checkpoint, awaiting news of missing relatives. Local officials said that 31 bodies had been discovered, 20 men, 10 women and one child. A Reuters correspondent saw a fishing boat bring in 12 more bodies, bringing the death toll to 43.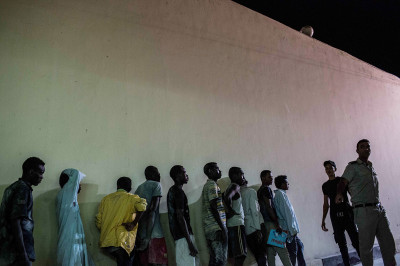 Shaabaan Darwish told Reuters of the despair family members felt when they tried to inform the coastguards that the boat was sinking. "I'm waiting for my cousin. We ran to tell the (coastguard) that the boat was sinking and the people were dying. But they do not care for the people who died, the country we live in looks to these people as dogs, not human beings, because if they had treated them like human beings, the Navy would have been informed and not so many people would have died. But, what is it to them but some dogs who died, this isn't our country. This is not our country."
Abdelrahman al-Mohamady, a fisherman who used his boat to search for survivors, told Reuters the Egyptian coastguard showed up hours after the accident. He said: "Nobody came. We returned 91 people, including a Syrian woman who died, whom we picked up out of the water. We didn't see anyone [officials]. Anyone who was saved here, was saved by the fishermen boats. The coastguard arrived in the afternoon, after 5pm. The families of the migrants have been here since dawn. If the general in charge had called the Navy then, none of them would have died."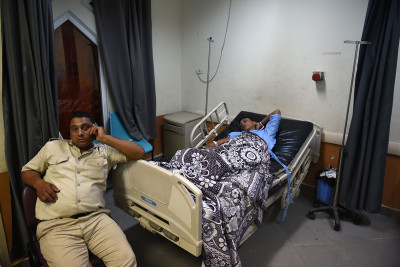 The number of refugees and migrants trying to cross the Mediterranean Sea from Egypt to Europe has increased significantly in the past year. Over 12,000 people arrived in Italy from Egypt between January and September, compared with 7,000 in the same period last year. This is due to new routes, particularly from Egypt, which are longer and far more risky according to the International Organisation for Migration. The refugee crisis has proven deeply divisive in Europe, which has failed to come up with a unified response, while thousands continue to die at sea, desperately trying to escape war-torn countries and severe poverty. World leaders, including Egyptian President Abdel Fattah al-Sisi, gathered in New York this week at the United Nations General Assembly to discuss the crisis.