Thousands Stage Anti-Occupy Protest in Hong Kong
Anti-Occupy protesters clash with pro-democracy activists in Hong Kong as tensions intensify over electoral reform.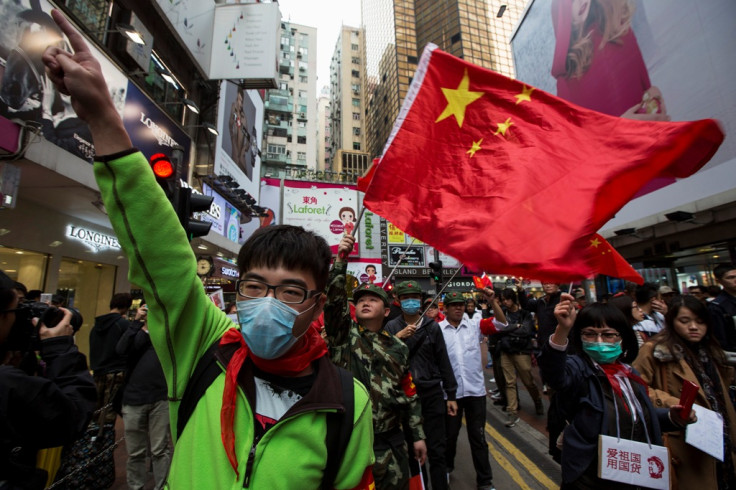 Thousands of people staged an anti-Occupy demonstration in Hong Kong on Sunday, protesting against a pro-democracy campaign that has threated to bring the city's financial centre to a standstill.
Protesters gathered in the 30-degree heat at Victoria Park to denounce the Occupy Central movement, which said it plans to lock down the city's central financial district if Beijing does not allow democratic elections for a leader in 2017.
Robert Chow, a former Hong Kong radio host and a spokesman for the protest's organisers, the Alliance for Peace and Democracy, told Reuters: "We want to show that the march doesn't have to be violent and angry. It can be happy."
Retiree Law Kwai-wing, 77, who said he had travelled across the border from Guangdong province, added: "We do not support Occupy Central because it will bring trouble and instability to the city."
Kwai-wing said he had travelled as part of a bus tour organised by the pro-Beijing Federation of Trade Unions, and that the group planned to stay for less than an hour before returning to mainland China for lunch.
Some demonstrators were offered HK$350 (£27) to attend the rally for five hours, according to Reuters.
Deep divisions
Around a dozen people, including a member of the left-leaning political group People Power, staged a counter rally, heckling the anti-Occupy Central protesters and pelting them with eggs, the South China Morning Post reported.
In a reference to the individual behind the anti-Occupy Central Campaign, counter protesters shouted: "[Robert] Chow Yung has brainwashed all of you. You are selling out your conscience."
The Alliance for Peace and Democracy, which is largely backed by Beijing-friendly groups, said it has collected almost 1.5 million signatures of people who agree that the Occupy Central campaign is "illegal" and would hurt business and damage Hong Kong's reputation.
Anti-Occupy protest organisers expected 10,000 people to take part in a run through march on Sunday morning, but police said fewer than 900 turned out, the South China Morning Post reported.
"I am here to oppose Occupy Central as it will mess up Hong Kong," one protester said. "Political reform? What is political reform?"
The pro and anti-Occupy protests have exposed deep divisions over democratic and electoral reform in Hong Kong.
Pro-democracy activists have staged massive protests over Beijing's interference in local elections. The most recent was held on the 2 July anniversary of the day Britain handed Hong Kong back to China.
Hong Kong's next elections take place in 2017, and democracy groups have demanded that Beijing allows open nominations rather than only permitting pro-Beijing candidates to stand for election.
Beijing said it will introduce universal suffrage for the vote. However, Hong Kong's current chief executive CY Leung was elected by a committee largely loyal to the Chinese government.
© Copyright IBTimes 2023. All rights reserved.