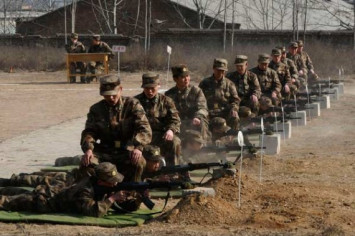 A Chinese state-run newspaper warned Hong Kong residents that their semi-autonomous territory is in line to become the next Ukraine or Thailand if pro-democracy protests, fuelled by an anti-Beijing sentiment, will continue.
Beijing's Global Times, a nationalist newspaper renowned for its hawkish editorials, wrote that hundreds of activists who staged a sit-in in support of democratic reform in Hong Kong are a threat to the rule of law.
"Hong Kong might have ushered into a period of continued social and political unrest," the paper wrote.
"If a breach into the rule of law is opened, Hong Kong could sink into the likes of Ukraine or Thailand and all kinds of dangerous phenomena could happen."
The reference to Thailand might be particularly worrisome to Hong Kong's pro-democracy activists, as the military there seized power in coup, after months of rival protests that deadlocked government action.
In Ukraine pro-Europe protests initially repressed in violence ballooned into a revolution that was followed by a political and security crisis in the eastern provinces.
Hong Kong, a former British colony, was returned to China in 1997 and has since been controlled by Beijing according to the so-called "one country, two systems" policy.
About 8,000 Chinese People's Liberation Army (PLA) troops are stationed in the special administrative region, mostly in the large waterfront barracks yards from where pro-democracy protests are taking place on Hong Kong island. Unlike their mainland counterparts, Hong Kong residents enjoy a series of freedoms, including free speech and the right to protest and have their own government.
Pro-democracy activists, however, have always criticised the election of their city leader, known as the chief executive, by an elite pro-Beijing committee.
The Global Times' editorial came after hundreds of Hong Kongers blocked part of the city's financial district in a protest calling for electoral reforms that meet international standards, allowing opposition candidates to stand for election.
Police arrested 511 people who took part in the unauthorised overnight sit-in, which followed a massive pro-democracy rally on July 1.
Almost half a million people took to the streets in the annual march commemorating Hong Kong return to China, which has become an occasion for residents to air complaints over a range of grievances.
Turnout was boosted by a policy document released by China's cabinet, which claimed that Hong Kong's autonomy by grace of Beijing's authorisation and the city leader must be patriotic to China.
Days earlier, an unofficial online referendum to bolster support for democracy was voted on by almost 800,000 people.
"In Hong Kong, you have the system from the British and you cannot suddenly ask Hong Kong to change suddenly to what China does. If you do so, Hong Kong people cannot survive," Gary Law, a 19-year-old demonstrator said.
Despite Law and fellow protesters' appeals, Beijing issued a statement urging Hong Kongers to "undo the knots in their minds and unite with mainlanders to chase their great China dream".