At least five people were killed as Hurricane Irma reached southwest Florida on Sunday, local media reported, as the storm threatened to cause "catastrophic" and "life-threatening" storm surges in coastal areas. One person was found dead in a home in Shark Key. Another four people were reported dead in Monroe County and Hardee County, ABC News reported.
Hurricane Irma barrelled into southwest Florida on Sunday 10 September, though by then it was downgraded to a Category 2 storm with maximum sustained winds of 110 mph, having been Category 5 when it struck the Caribbean, killing at least 27 people across the islands.
The hurricane also left at least 3.5 million people without electricity. At least 6.5 million people had been urged by authorities to leave their houses and seek alternative shelters, AP reported. The storm, which is uprooting trees and flooding streets, is expected to slowly make its way up Florida's west coast, reaching the heavily populated Tampa-St Petersburg area by Monday 11 September.
The is a a storm surge warning in effect for South Santee River southward to Jupiter Inlet; North Miami Beach southward around the Florida peninsula to the Ochlockonee River; Florida Keys; and Tampa Bay.
"A storm surge warning means there is a danger of life-threatening inundation, from rising water moving inland from the coastline, during the next 36 hours in the indicated locations," said the US National Hurricane Center.
"This is a life-threatening situation. Persons located within these areas should take all necessary actions to protect life and property from rising water and the potential for other dangerous conditions. Promptly follow evacuation and other instructions from local officials."
The Center had warned previously: "The threat of catastrophic storm surge flooding is highest along the southwest coast of Florida, where 10 to 15 feet of inundation above ground level is expected."
However, the Center's latest warning said the water is now likely to reach between 3 feet and 6 feet above ground in Cape Sable to Captiva; Captiva to Anna Maria Island; North Miami Beach to Cape Sable, including the Florida Keys; Anna Maria Island to Clearwater Beach, including Tampa Bay; South Santee River to Fernandina Beach; Clearwater Beach to Ochlockonee River; and Fernandina Beach to Jupiter Inlet.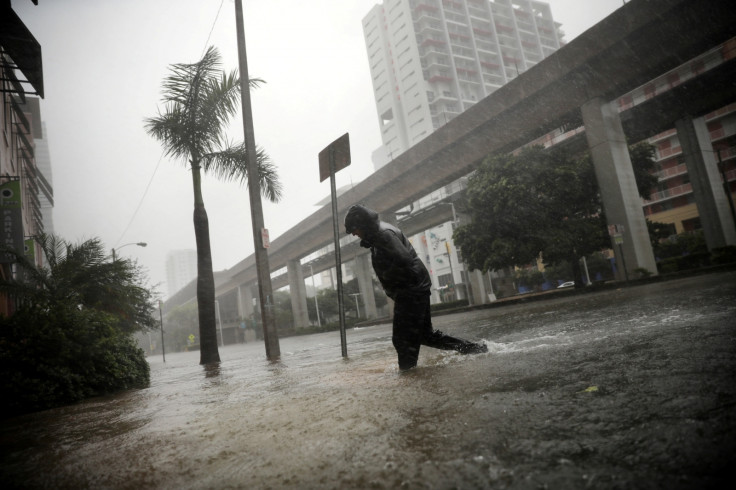 "The deepest water will occur along the immediate coast in areas of onshore winds, where the surge will be accompanied by large and destructive waves," the Center said. "Surge-related flooding depends on the relative timing of the surge and the tidal cycle, and can vary greatly over short distances."
CoreLogic, a global property data firm, found that nearly 455,000 Tampa Bay homes could be damaged by storm surges, CBS reported. Rebuilding the damaged homes could cost an estimated $81bn (£61bn).
The Florida Panhandle, eastern Alabama, most of Georgia and southern South Carolina are also expected to see tropical storm and hurricane conditions by Monday.
Through the storm is projected to pummel the state's Gulf Course, the entire state is in danger due to the storm's size. President Donald Trump approved a major disaster declaration for the Sunshine State and ordered federal aid to help.
The National Weather Service Miami-South Florida reported that a tornado had been sighted at Fort Lauderdale International Airport. A large, damaged crane was seen spinning in the wind and rain in Fort Lauderdale.