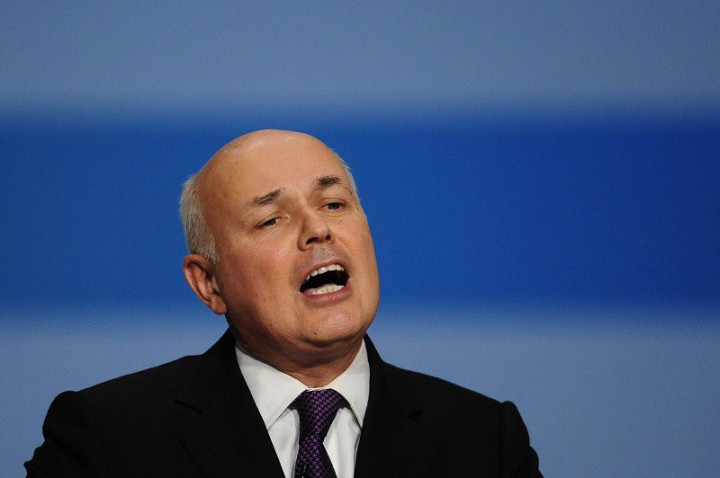 A generous benefits system that let people live comfortably without needing to work meant businesses relied on immigration to fill in their staffing gaps, according to Iain Duncan Smith.
The work and pensions secretary said in a speech that mass immigration during the previous Labour government was "a supply-and-demand issue" because firms could not find enough home-grown workers to meet their needs.
This was because Labour let too many people sit on benefits rather than find work, a problem he claims his welfare reforms – such as forcing people to find a job or lose handouts, and cutting unemployment benefit – are helping to fix.
"Businesses needed the labour and, because of the way our benefit system was constructed, too few of the economically inactive took the jobs on offer," Duncan Smith said in a London speech.
"This was the real failure of the last government. They pursued an open-door immigration policy which was bad enough, but they made matters worse by leaving the welfare system in such a mess with all of its disincentives to work.
"Small wonder then that of the rise in employment created in Britain before the election, it was foreign nationals who benefited most."
The Office of National Statistics estimates that between 2000 and 2012 net migration in the UK – the difference between the number of people leaving and entering the UK – exceeded 2 million, and many of them were migrants from the European Union (EU). Under the EU rules, member states cannot restrict the movement of EU citizens seeking work.
This has seen many migrants leave central and eastern European countries to more affluent states, including the UK, where they seek work opportunities and better pay, which they send to families at home.
Labour's Welfare Chaos Claim
Labour's shadow work and pensions secretary, Rachel Reeves, said the government's welfare reforms have backfired.
"Under Iain Duncan Smith housing benefit spending is rising, not falling," she said.
"The number of working people claiming housing benefit is set to double between 2010-2018 costing every British household £488. The government's flagship welfare reforms are in chaos."
Critics of the government also highlight the changing nature of the labour market in which underemployment – those working, but want to work more hours – is rife.
They say the government's austerity programme, which has seen billions of pounds slashed off of public finances, has been carried out too quickly and is hurting the economy.
As a result, people are unable to find the permanent, well-paid roles they want, instead having to settle for part-time and temporary work to get by. And they also need welfare payments to top up their incomes.