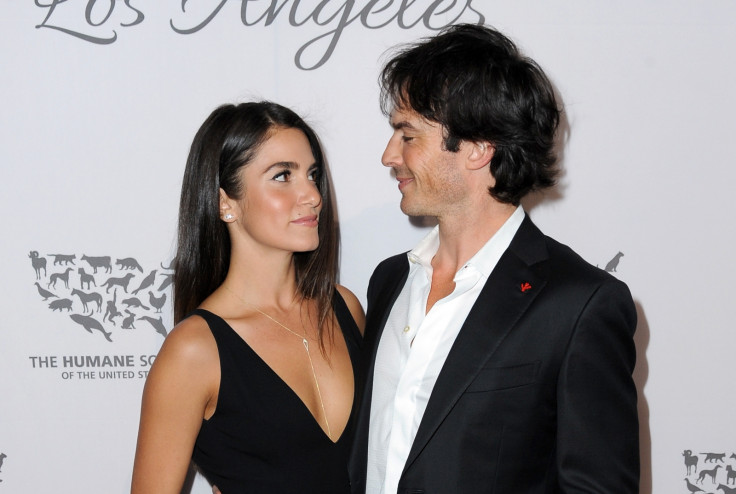 Ian Somerhalder can't stop gushing about his wife Nikki Reed who, according to him, is an 'amazing mom'. The couple is currently enjoying their 'very private' time with newborn daughter Bodhi Soleli, and it appears the actor can't help but break his 'month of silence' pact to declare his eternal love for his wife.
Somerhalder shared the actress' Fit Pregnancy cover picture on Instagram and wrote a loving note for her. "Just a quick note to you my beautiful wife," he captioned the picture. It appears the newest member in the Reed-Somerhalder family is keeping her parents awake every night, but the new dad is not complaining. In fact, he is overwhelmed to see Reed being such an 'amazing mom' to their baby.
"You are briefly napping on the other side of the room after being an amazing mom all night so you'll read this when you wake. Seeing these images reminds me of those amazing 9 months that you sacrificed your whole being to grow our little one" the Vampire Diary actor wrote.
"The kindness, the beauty and organic nature of these photos makes me so very proud. You brought such fun and such power into our lives being pregnant but you literally brought the word sexy into pregnancy, we all see it. Thank you for being my partner in this life and thank you for inspiring not just me but all others, who read, hear or see what your soul gives us," he added.
The couple exchanged their vows in April 2015 and kept Reed's pregnancy news a big secret for months. They are yet to officially announce their baby's arrival, but E Online confirmed the news on 25 July.
To declare his love for his beloved wife, the 38-year-old actor, however, broke the self-imposed 'month of silence' rule. During her interview with Fit Pregnancy, the 29-year-old actress revealed that they will not entertain any visitors and will turn off their phones to spend time with their baby.
"After the baby arrives, we're doing one month of silence. Just the three of us, no visitors, and we're turning off our phones too, so there's no expectation for us to communicate. Otherwise, every five minutes it would be, 'How are you feeling? Can we have a picture?' You don't get those first 30 days back, and we want to be fully present," she had said.