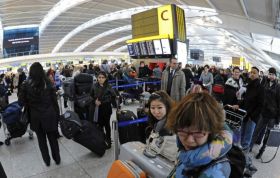 Europe's airlines industry will break even in 2012 as against the previous estimate of a combined loss for the year, says the International Air Transport Association (IATA), the Geneva-based body of the aviation sector.
Global carriers are expected to record better than expected earnings this year according to IATA, which represents 240 airlines and 80 percent of global airline traffic.
IATA expects airlines to post a combined net profit of $6.7bn (£4.1bn, €5.1bn) in 2012 as against its own earlier prediction of $4.1bn. For 2013, IATA forecasts a combined net profit of $8.4bn as against the previous estimate of $7.5bn.
The aviation sector witnessed a general consolidation, though it struggled with high fuel costs and reduced passenger demand along with the negative global economic environment in most of 2012. Cost-cutting and restructuring measures adopted by airlines and even the collapse of some small carriers contributed to the consolidation of the sector.
"Airlines have adjusted to this difficult environment through improving efficiency and restructuring," said Tony Tyler, chief executive and director-general of IATA.
"Economies of scale are helping larger airlines to cope much better with the difficult environment than small and medium-sized carriers which continue to struggle."
According to IATA, North American airlines will lead the recovery in 2013 which are expected to post a combined profit of $3.4bn. While Asia-Pacific is expected to record $3.2bn, other regions such as the Middle East and Latin America are set to contribute $1bn and $700m respectively.
However, carriers in Europe remain one of the worst performers as the region's economic worries still weigh down on the aviation industry. In October, IATA predicted a combined net loss of $1.2bn for European airlines because of the negative economic environment in the region.
"The carriers in Europe are particularly gloomy, I would say, based on talks with CEOs," said Tyler.
Economic uncertainty, high taxes and inefficient infrastructure will continue to hover over the European airlines industry in 2013.
Major carriers such as Lufthansa, KLM and International Airlines Group (IAG) are going ahead with their restructuring plans to cut costs and IATA feels that it will lead to further consolidation in the industry.