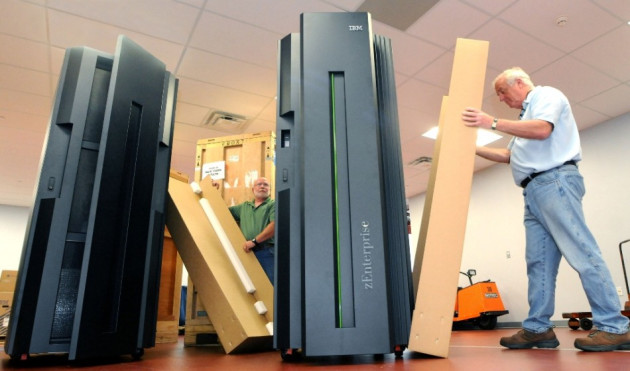 Technology giant IBM's shares plunged in early trading on 17 October after the company said sales were down for the sixth consecutive quarter, while its hardware business reported a loss.
Shares in the world's largest computer services provider fell 7.6% to $172.57 in New York, after the firm said that third-quarter revenue dropped 4% to $23.7bn (£14.7bn ,€17.4bn). Quarterly net income rose 6% to $4bn, according to a company statement.
IBM made the announcement after the markets closed on 16 October. Wall Street analysts' had expected revenue to hover at $24.74bn, reported Reuters.
However, the company reaffirmed its full-year outlook of non-GAAP earnings per share (EPS) of at least $16.25.
IBM's hardware business lost $713m in the first nine months of 2013, as against a $253m profit in the year-ago period.
Revenue from growth markets shrank 9% in the July-September quarter. Chinese sales plunged more than 20% as the world's second-largest economy worked on a plan for economic policy, chief financial officer Mark Loughridge said on a conference call.
"We are taking action to improve execution in our growth markets unit and in the elements of our hardware businesses that are underperforming. Given these actions, our strategic initiatives and the strength of our model, we are maintaining our view for the full year and remain confident in our ability to achieve at least $20 operating EPS in 2015," chief executive Ginni Rometty said in the statement.
"IBM has been challenged with changing the model on the hardware front, and now the growth markets are a surprise drop," Chris Ambrose, an analyst at Gartner told Bloomberg. While pursuing higher-margin markets is the right move, "they still have to show revenue growth at some point," Ambrose added.
"I think that the hardware business is going to be something they need to work through, and growth markets are down much more than expected," Edward Jones analyst Josh Olson told Reuters. While the services backlog remained healthy, "we are not seeing the conversion of that backlog into meaningful revenue," Olson added.
IBM's stock has lost about 7% so far this year. The company has a market capitalisation of about $193bn.
Since her appointment as CEO of the company, Rometty has put in place a five-year plan to generate maximum profit from the software business by 2015.