Click Here to Read Match Report of The Final Between India and Sri Lanka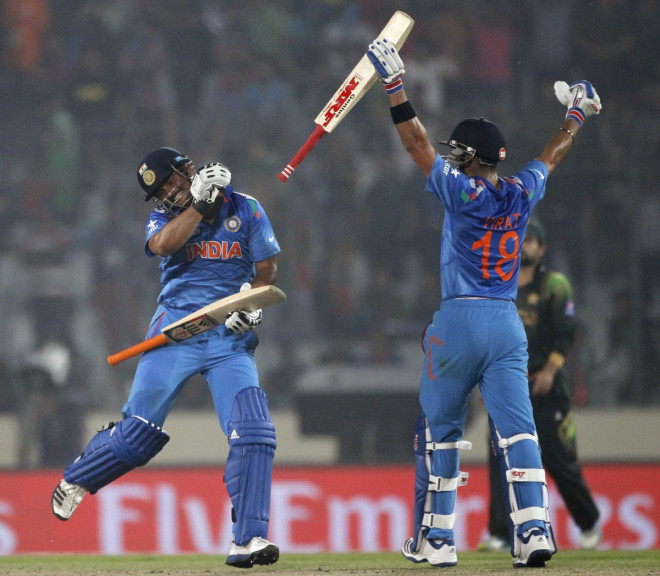 18:04: That's it from us as of now. Thanks for joining us for the Live coverage.
17:32: India failed to win the T20 World Cup for the second time as Sangakkara and Jayawardene stepped up for the big occasion to spoil India's party.
17: 31: Sri Lanka reached the target with 13 balls to spare and Sri Lanka have finally managed to seal a T20 World Cup success for the first time.
17:29: Sangakkara and Jayawardene finish their T20 career on a high by winning the World CUp in the shorter format of the game.
17:27: Sri Lanka win the 2014 T20 World Cup by six wickets
Over 18: Sri Lanka for 4: Ashwin's carrom ball takes a top edge and goes past behind the keeper for a boundary. That is followed by another boundary, which takes Sangakkara for his 50.
Sri Lanka are one knock away from winning the T20 World Cup. Nine of the first four balls. Thisara Perera smashes one down the ground and that is it. Sri Lanka have won the T20 World Cup.
Over 17: Sri Lank 119 for 4: Sangakkara smashes one over the cover for a boundary and the required rate is now drop to run a ball. Thisara smashes one over long-on and Sri Lanka are edging closer towards their first T20 success. Rahane drops a tough catch as Thisara smashes one up high in the air.
13 of the over and Sri Lanka need 12 to win the T20 World Cup.
Over 16: Sri Lanka 104 for 4: Sri Lanka are in firm position and are in full control of the game. They are rotating the strike and not going for big shots. Six runs of Ashwin's over.
Over 15: Sri Lanka 98 for 4: Thisara smashes Mishra over long-on for six, followed by a push from Sangakara towards fine leg for another boundary. 14 of it.
Over 14: Sri Lanka 84 for 4: Pressure mounting on Sri Lanka after losing two quick wickets. But they are rotating the strike. Can India pull something special today?
Can India's unsung hero Amit Mishra turn things in India's favour. Why is he called Unsung Hero. To know more click here.
Over 13: Sri Lanka 78 for 4: Mishra gets Thirimanne's wicket and conceds only three runs.
WICKET...!!! Thirimane 7 c Dhoni b Mishra
Sri Lanka need 56 runs to win from 48 balls
Over 12: Sri Lanka 75 for 3: Sri Lanka are rotating the strike and making sure the required run rate does not increase as they get into the final few overs. Raina has conceded two runs from his over.
Over 11: Sri Lanka 73 for 3: Dhoni brings Ashwin back into attack. Just four runs from singles from the over.
Over 10: Sri Lanka 69 for 3: Brilliantly done by Jayawardene as he beats the fielder for a boundary. Jayawardene gets out by giving a catch to Ashwin at mid-on. Thirimanne was close to get out from his first ball, but misses the slip fielder and goes for four.
WICKET...!!! Jayawardene 24 c Ashwin b Raina
Over 9: Sri Lanka 58 for 2: Sangakkara sweeps Jadeja's first ball behind square leg for four. The left-arm spinner gets smashed for Sangakkara's first six. Sri Lanka have crossed 50 in the ninth over. 11 of it.
Over 8: Sri Lanka 47 for 2: The first two balls go for no runs and Sangakkara tries to cover the long-on fielder. But the ball falls short of Mohit Sharma. Jayawardene nudges one for a double from the last ball.
Over 7: Sri Lanka 42 for 2: Brilliant come back from India as they just concede a run from Amit Mishra's over.
Over 6: Sri Lanka 41 for 2: Dilshan nudges one to the boundary towards the square leg. He tried to put one to the crowd and gets the fielder just near the boundary line. Four from the over.
WICKET...!!! Dilshan 18 c Kohli b Ashwin
Over 5: Sri Lanka 37 for 1: Sensible cricket from Jayawardene as he nudges one to third man for another boundary. Sri Lanka are in full control of the game as he scores his second four of the over. 10 of it.
Over 4: Sri 27 Lanka for 1: Jayawardene takes on Mohit Sharma and smashes one for four. This time Dilshan finds the gap in the leg side and Sri Lanka get their second boundary of the over.
Dilshan was lucky enough to get an inside edge as it goes past the keeper for their third boundary. Pressure is on Dhoni and India. 15 of it.
Over 3: Sri Lanka 12 for 1: Dilshan puts one past the fielder towards the fine leg. Indian fans thought they got the danger man Dilshan, but Dhoni apologised quickly as it came of his hands. Four of it.
Over 2: Sri Lanka 8 for 1: Perera got out for the first ball. Jayawardene walks in for the last tim in the T20 international match of his career. Sri Lanka are playing carefully and are trying to understand the conditions now as to how the pitch behaves. Just three runs and a wicket.
WICKET...!!! Perera 5 c Jadeja b Mohit Sharma
Over 1: Sri Lanka 5 for 0: Perera smahes the second ball towards the leg-side for a boundary and the first runs are on the board for the Lankans. There has been some swing and the variation could do the job for India. He finishes th over with a single.
16:19: Bhuvneshwar Kumar opens the bowl for India.
16:17: Tillakaratne Dilshan and Kusal Perera walk into the middle as they set to chase 131 runs to win the T20 World Cup for the first time.
Sri Lanka need 131 runs to win the 2014 T20 World Cup
Read the Mid-Innings Report Here
Over 20: India for 3: Dhoni is standing deep inside the crease. Last 19 balls, India have managed 13 runs. Two byes and Sri Lanka have come very good in the death overs. India are struggling as there has been a lot of dot balls in the final few overs.
Dhoni takes a double and India's best batsman Virat Kohli is still off the strike. Kohli get's out in the final bowl of India's innings.
WICKET...!!! Kohli 77 run-out
Over 19: India 123 for 3: Yuvraj get's out of the first ball of the over. Dhoni replaces him in the middle now. Kohli nudges one for a single and brings the skipper on strike. Dhoni takes another single. 1's and 2's will not make any good for India now.
Three runs from the first five balls and Dhoni is on strike. Leg-bye to finish the over. Four of it.
WICKET...!!! Yuvraj Singh 11 c Perera b Kulasekara Yuvraj tried to hit the ball over the long-off fielder. but finds Perera, who takes a simple catch.
Over 18: India 119 for 2: Yuvraj Singh is struggling and this could take the game away from India. Just 9 of 16. He squirted it away to third man for a single. Excellent feilding from Sri Lanka in the last few overs.
Indian fans are frustrated as Yuvrah continues his struggle. Just three runs of 5 balls and finishes the over with a single and keeps strike. Four of it.
Over 17: India 115 for 2: The first two balls have gine for nothing, while the Yuvraj takes a single of the third ball. Kohli is in strike and he takes another single now. Just two singles from first four balls. Kohli takes a single to keep strike.
Over 16: India 111 for 2: Kohli uses the bottom hand and flicks it away for six over leg side. He finds the gap on the off-side for another boundary. 10 runs of the first two balls. He sends another one to the leg side. The fielder just missed it and that is the second four of the over.
Kohli charges down the ground and smashes one to over the bowler and the long-on fielder cuts it in and saves three runs. 16 of it.
Over 15: India 95 for 2: Good over for Sri Lanka as just two runs of it. Yuvraj Singh is struggling. Five overs left in Indian innings.
Over 14: India 93 for 2: Kohli takes a single of Malinga by just tapping one towards long-off. Yuvraj is taking singles and giving the strike to Kohli, who has been in fine form throughout the T20 World Cup.
Kohli tries to find a boundary, but finds a mid-wicket fielder and takes a double. That has taken him to 49. He's done it. Kohli reaches his 50. 50 out of 43 balls, which includes three sickes and two fours. Kohli finishes the over with a boundary.
Over 13: India 83 for 2: Kohli takes on Herath as he smashes one for six over the long-on fielder. The run rate has just started picking up and with there will be seven overs after this. Kohli takes a single and keeps a strike. 10 of it.
Over 12: India 73 for 2: Kohli charges Senanayake straight to long-on, but manages only two runs. He later finds the gap for a boundary over extra cover. Takes a single to end the over and keeps the strike.
With Virat Kohli's brilliant form, is he the next big thing in World cricket? Take a read of that piece here
Over 11: India 65 for 2: Sharma's wicket means Yuvraj Singh walks in the middle. The lef-handed batsman gets off the mark straight away and that is the only run of the over.
WICKET...!!! Rohit Sharma 29 c Senanayake b Herath
Over 10: India 64 for 1: Rohit Sharma swings his bat and smashes in between point and cover for a boundary. This has taken a pressure of Kohli. But he is not interested to waste time as Kohli joins the party and finishes the over with a six. 14 of it.
Over 9: India 50 for 1: Just three out of it. Things have slowed down for India as they manage just three runs of the over.
Over 8: India 47 for 1: Kohli and Rohit Sharma are rotating strike as they manage six runs of the over.
Over 7: India 41 for 1: Kohli dropped by Malinga and this can be vital in the course of the game. After being dropped, Kohli charges down the ground for a six to finish Herath's over. 10 from it.
Over 6: India 31 for 1: Kohli and Sharma rotated the strike for the first four balls before Rohit Sharma charged the Sri Lankan skipper for a bountal fdary from the last ball. Eight of it
15:03: Lasith Malinga has come to bowl now as we head into the final over of powerplay.
Over 5: India 23 for 1: Spin is introduced as Sachithra Senanayake takes the bowl. Rohit Sharma sends the ball high in the air and falls just short of the rope. He once again sweeps the ball past two players towards fine leg for three runs.
Sri Lanka had a chance of a run out due to miscommunication between Kohli and Rohit Sharma in the middle. No runs from the last two balls.
Over 4: India 15 for 1: India are just rotating the strike now and are not looking to find boundaries. In the process, they have resulted in dot balls and the run rate is below 4 now. No boundaries from the first for balls. Just four runs from it.
Over 3: India 11 for 1: Kohli punches the ball in the gap towards mid-wicket for India's first boundary. The next two balls have gone for nothing. Sangakkara has moved up front with a helmet and is right behind the stumps.
Herath makes a brilliant dive to save his side three runs. Rohit Sharma nudges the ball towards third man for a single. Six of the over.
Over 2: India 5 for 1: Mathews sends Rahane back to the pavilion. The righ-handed batsman completely misses the bowl, giving away his wicket. Kohli takes a single of the last ball.
14:48: Big man Virat Kohli has walked into the crease.
WICKET...!!! Ajinkya Rahane 3 b Mathews
14:46: Angelo Mathews bowls the second over.
Over 1: India 4 for 0: Rohit Sharma opens India's scoring with a single by punching a ball twoards square-leg. The fielder in point makes a misfield as Rahana runs for a double. Rahana punches one to the sqaure-leg for a single and keeps the strike for the next over.
14:40: Lasith Malinga hands the ball to Nuwan Kulasekara to open the bowling.
14:37: Ajinkya Rahane and Rohit Sharma will open the proceedings for India with the bat.
14:35: In just five minutes, we will have the first ball being bowled in the T20 World Cup finals.
14:30: The players from both sides will take the field for the national anthem.
14:29: We are just over 10 minutes before the players take the field for the fascinating contest between India and Sri Lanka in the 2014 T20 World Cup.
14:21: The stadium is packed with supporters and the home crowd are still there to watch the finals, despite the host nation Bangaldesh could not make it to Knockouts.
14:18: We are over 20 minutes away from the play to start as Sri Lanka have won the toss and elected to field.
14:14: For Sri Lanka, there is only change as Thisara Perera comes in for Seekkuge Prasanna.
14:13: India retain the same playing XI from the semi final match against South Africa.
TEAM NEWS
INDIA: Ajinkya Rahane, Rohit Sharma, Virat Kohli, Suresh Raina, Yuvraj Singh, MS Dhoni (c & wk), Ravindra Jadeja, R Ashwin, Amit Mishra, Bhuvneshwar Kumar, Mohit Sharma
SRI LANKA: Tillakaratne Dilshan, Kusal Perera, Mahela Jayawardene, Kumar Sangakkara (wk), Angelo Mathews, Lahiru Thirimanne, Nuwan Kulasekara, Thisara Perera, Sachithra Senanayake, Rangana Herath, Lasith Malinga (c)
14:10: TOSS...!!! Sri Lanka win the toss and Lasith Malinga decide to bowl first.
14:09: Nasser Hussain walks Indian skipper MS Dhoni and Sri Lankan captain Lasith Malinga to the centre for the toss.
14:07: Indian players are playing football before the toss, while Sri Lanka are stretching.
14:06: We are less than five minutes away from the toss.
13:51: Good news is that there will be not be any reduction in overs.
13:50: The game will start at 2:40pm BST. With toss being at 2:10pm BST.
13:49: The umpires have confirmed there will be toss in another over 20 minutes.
13:43: The players are on the field and are warming-up.
13:33: Good News...!!! Covers are being taken off.
13:31: Sri Lanka lost only once to England in the 2014 T20 World Cup. India have managed to win all matches so far in the tournament.
13:21: If there is no play today, the match will be scheudled tomorrow as there is a reserve day for the finals. Even if the weather plays a spoilsport tomorrow, the trophy will be shared between India and Sri Lanka.
13:20: We are 10 minutes away from the toss, but the covers are still on. Need to hope the weather improves and there would be some action for the day.
13:16: The Lankans finished Group 1 on top. Sri Lanka defeated defending champions West Indies to seal a place in the final.
13:15: India won all four Super 10 fixtures and topped Group 2. In the semi-finals, they defeated South Africa to make it to the finals.
13:14: The last time India and Sri Lanka met in the finals was during the ICC World Cup in 2011. MS Dhoni's side came out victorious and were crowned the new World Champions.
13:10: India are the holders of ICC World Cup and ICC Champions Trophy. Should India win against Sri Lanka today, they will be the first team to hold all three major trophies at the same time.
13:09: Will Virat Kohli, Ravichandran Ashwin or Amit Mishra be the key player for India? OR is it Mahela Jayawardene, Lasith Malinga and co's day in the final of the 2014 T20 World Cup. Read three key players for India and Sri Lanka here.
13:05: Sri Lanka made it to the finals of the T20 World Cup twice. The Lankans failed to win in both occasions, first being against Pakistan in 2009 and the latest one in 2012 agianst West Indies.
13:03: India won the first edition of the T20 World Cup in 2007, defeating their arch rivals Pakistan in the final.
Good afternoon and welcome to IBTimes UK's LIVE coverage of the 2014 T20 World Cup final between India and Sri Lanka from. We are scheduled to get started at 2pm BST.