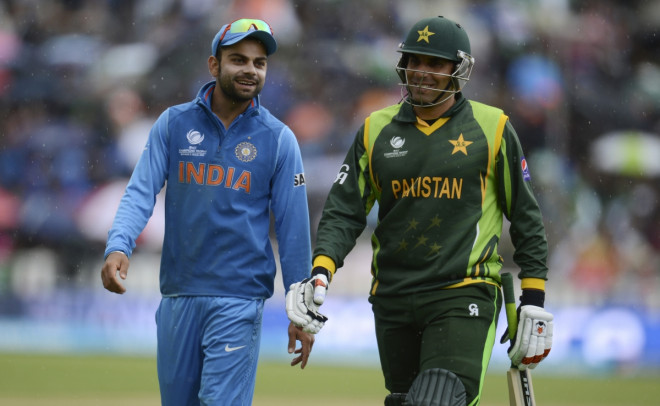 5:35: Ravichandran Ashwin
Thought 160 was just above par. You have to cut the width for the right-hander, the line I'm bowling is not too wide outside off. We were stretched quite a bit while batting but we're playing well the way we are

5:28: Ravichandran Ashwin gets the Man of The Match for his match winning performance of 4-11.
5:25: India go on top of Group 2 with eight points from four games and will finsih Group Stage in the same position. MS Dhoni's side will face the runners up of Group 1 in the semi final clash.
Australia suffer humiliating defeat by 73 runs. India makes it four out of four in Group Stage fixtures, while Australia suffer their third straight defeat.
SUMMARY
INDIA
Yuvraj Singh 60
Ravichandran Ashwin 4-11
AUSTRALIA
Glen Maxwell 23
Brad Hodge 1-13
Over 17: Australia 86 for 10: Muirhead is the last man to depart as India completes another victory in the T20 World Cup.
WICKET! Muirhead 3 c Dhoni b Ashwin
Over 16: Australia 86 for 9: Hodge satrts Mishra's over witha a double. The very next ball he tries to cover the boundary line, but finds Jadeja near the rope. Five runs from the over.
WICKET! Hodge 13 c Jadeja b Mishra Things change from bad to worse now for Australia.
Over 15: Australia 81 for 8: Wickets falling at regular intervals as Jadeja gives away four runs.
WICKET! Starc 2 run out Kohli Starc ws running towards strikers end before Dhoni was quick to dismantle the bails from Kohli's throw.
Over 14: Australia 77 for 7: Starc opens his account by taking a single after driving the ball towards the long-on fielder. Three runs and a wicket from the over.
WICKET! HODGE 8 c Rahane b Mishra
Over 13: Australia 74 for 6: Haddin scores a boundary straight down the ground. Jadeja has been expensive, when compared to other Indian bowlers today.
Over 12: Australia 69 for 6: Five singles from Amit Mishra's first over.
WICKETS are falling at rehualry intervals and this has made Australia's situation bad to worse. Meanwhile, India are dominating in this year's T20 World Cup.
Over 11: Australia 64 for 6: Bailey uses his feet and charges down the ground for a six. The very next ball gives it straight to Kohli's hand in deep square leg.
WICKET! Bailey 8 c Kohli c Jadeja After smashing one over Jadeja's head, Bailey finds Kohli in deep square leg, who takes a simple catch.
Over 10: Australia 56 for 5: Ashiwn has picked up in wickets regularly as he once again restrict the Australians from scoring.
WICKET! Maxwell 23 st Dhoni b Ashwin
Over 9: Australia 54 for 4: Six from Maxwell and the rest of balls are dot balls.
Over 8: Australia 46 for 4: They lose another wicket, while Ashwin concedes only two runs.
WICKET! Warner 19 c Rohit Sharma b Ashwin Rohit Sharma comes running from deep midwicket and takes a very good diving catch.
Over 7: Australia 44 for 3: Maxwell charges Raina and covers the square leg fielder for six. This time he covers the deep-leg for maximum.
Over 6: Australia 27 for 3: Watson was lucky as he squeezes the ball between backward point and short third man for a four. Six runs from the over and that is the end of power play.
WICKET! Watson 1 b Mohit Sharma Watson tried to chop the ball, but misses it as the ball just puts the bails down before reaching the keepers gloves.
Over 5: Australia 21 for 2: Brilliant over form Kumar. Two runs and a wicket.
WICKET! White 0 c Jadeja b Kumar White played the long-hoop and mis times the ball. Jadeja runs backwards and takes the catch comfortably.
Over 4: Australia 19 for 1: Warner charges down the ground for a six. A wicket and a six from the over.
WICKET! Finch 6 c Kohli b Ashwin Finch tries to charge as it takes a top edge, giving a simple catch to Kohli.
Over 3: Australia 13 for 0: Bhuvneshwar Kumar continues as Dhoni stands right behind the stumps. He is trying to take the pace out of the ball as the first four deliveries result in dot balls. Just one run from the over.
Over 2: Australia 12 for 0: Mohit Sharma in his first game in the T20 World Cup gives away six runs from his first over.
Over 1: Australia 6 for 0: Just the boundary of Bhuvneshwar Kumar's first ball from Aaron Finch, followed by two singles.
For Mid-Innings Between India and Australia, Click Here.
Australia start their innings and the result will not have any impact on the outcome in the table.
Australia need 160 to win
Over 20: India 159 for 7: Boundaries have dried up for India in the last nine deliveries. With three more balls left in their innings, Watson over steps and that results in a free hit. Ashwin on strike.
Will Ashwin convert this free hit into a maximum? No he manages a couple as India reach 158 with two balls to go. The last ball ends in a single.
WICKET! Jadeja 3 run out Watson
WICKET! Yuvraj 60 c Maxwell b Watson Yuvraj tried to clear the log-off fielder, but instead finds Maxwell.
Over 19: India 152 for 5: Dhoni takes a quick single and gives the strike to in-form Yuvraj. He takes another single and that brings 150 runs for India. Brilliant over from Australia as they have managed just three singles from the first four balls.
Jadeja gives single as he like, Dhoni is looking to get Yuvraj on strike. Just five runs from the penultimate over.
WICKET! Dhoni 24 b Starc
Over 18: India 147 for 4: Three overs remaining in India's innings. Watson tried to bowl in the blockhole and Yuvraj misses this time. Just one run from the first two balls. He pulls one to fine-leg for four.
Yuvraj reaches his half-century in style as he sends the ball into the stands. This is followed by another boundary over keeper's head, which came out of Yuvraj's gloves. Ends the over with a dot ball.
54 runs scored from last 4 overs
Over 17: India 131 for 4: Yuvraj takes a single and gives the strike to Dhoni. He pulls the short delivery and clears the fine leg fielder for a six. A quick single in the middlle by just tapping the ball pass the fielder behind non-striker.
Yuvraj finds a gap down the long on and clear Maxwell for another boundary. He tries the same on off-side, but this time gets stopped by the fielder. Yuvraj finishes the over in style with a huge six over long-off.
Over 16: India 112 for 4: Dhoni tries to go big, but misses it. Tried for the second time and luckily it lands in front of the player and he picks up a double. Bollinger and Dhoni are having a laugh in the middle.
Another two as Dhoni nudges to deep fine leg. He finally manages to clear the boundary, just smashing over the mid-off fielder who was inside the circle. He smashes to the off-side as he picks up his third double of the over. 10 of the over.
Over 15: India 102 for 4: Watson is brought back into the attack. Yuvraj takes another single as he moves into 30's. With current comdtions, India are likely to post a total of 154 runs.
Dhoni tries to pull one over fine leg. He misses it and takes a quick single from the mishit. Yuvraj punches one to the deep square leg, but resulted in just one run. Two successive wides and a misfield, result in two byes. 100 comes up for India with that two runs. Eight of the over.
Over 14: India 94 for 4: Yuvraj smashes one into the crowds for a six, which is followed by another shot to the same place, resulting in maximum runs. He takes a single now and gives the strike to Dhoni. 17 runs from the over.
Over 13: India 77 for 4: Yuvraj bangs through the midwicket as it is a welcome boundary for India. India are not taking anhy risks as of now as they are looking not to give away wickets. Hodge and Haddin go up quickly as they ask for a leg before decision. Umpire seems least interested.
Over 12: India 69 for 4: Raina takes a single after nudging on to deep-point. Yuvraj gives him the strikeby taking another single. Raina gives a simple catch to Finch, who was at long on. MS Dhoni walks into the crease now as India have already lost four wickets.
WICKET! Raina 6 c Finch b Maxwell Raina tries to cover the long on while giving a simple catch to Finch.
Over 11: India 64 for 3: Raina and Yuvraj are looking to get into a better position as Raina has hardly been in action in the T20 World Cup this year. Yuvraj plays his trademark short and it is a welcome boundary towards midwicket.
Yuvraj is having a tough time as it is the second time he has slipped so far in this innings. Brad Haddin is having a luagh from behind the stumps. Last two balls ends with no runs.
Over 10: India 59 for 3: India are going slow as Yuvraj and Raina are rotating the strike. Two left-handers in the middle now. Raina sends one charging down the ground, while Maxwell reacts quickly to take a catch. Wasn't a chance there, but could have been a brilliant catch if he had caught it.
Over 9: India 54 for 3: Suresh Raina comes in for Rahane and he flicks down to third man for a single. Two runs from the over and a wicket.
WICKET! Rahane 19 c Haddin b Bollinger Rahane trying to send the ball to third man, instead takes a faint knick staright into keeprs gloves.
Over 8: India 52 for 2: Maxwell is trying to unsettle Yuvraj, who has lost his charm in recent times. There was a miscommunication between Yuvraj and Rahane as Maxwell fails to pick up the ball. Five dot balls and pressure is on the left-handed batsman. He finishes the over wil a single.
Over 7: India 51 for 2: Kohli's wicket will give Australia a much needed boost, who has been instrumental with the bat in the T20 World Cup for India.Yuvraj Singh walks into the middle.
Rahane punches one to the midwicket as Starc is forced to dive to save two runs for his side. Another single for Yuvraj as he keeps the strike for the next over.
WICKET! Kohli 23 c White b Muirhead: Kohli comes down to charge as he shot went straight to White, who was at long off.
End of Powerplay as Bailey brings leg-spinner James Muirhead into attack
Over 6: India 44 for 1: Bollinger is introudced into the attack. Kohli and Rahane are taking singles while finding the much needed boundary in the middle. Good batting from the two as this would be the end of power play. Seven of the over.
Rahane pulls one behind square as the opener is trying to keep pace with in-form Kohli.
Over 5: India 37 for 1: Rahane joins the action as he charges down the ground for his first four, through covers. He fails to capitalise on the full toss, giving it straight to the fielder. Rahane takes a single, while Kohli does the same by nudging the ball to third man.
Over 4: India 30 for 1: Rahane takes a single and gives the strike to in-form Kohli. Shane Watson is into action now. Kohli flicks over mid-wciket with a little help from bottom hand. Goes down the ground and Kohli manages two runs.
Over 3: India 23 for 1: Mitchell Starc is handed the bowl as Rahane takes three runs while tapping the bowl to long-on. Kohli is in fine form as the bowl takes the edge and goes to the boundary at third-man. Seven of the over.
Over 2: India 16 for 1: Rahane nudges one down the ground for a single. Maxwell bowls ine outside leg stump as it is the first extra of Indian innings. Kohli taking his time to adjust in the middle. He finishes the over with a six over the midwicket.
Bailey introduces another spinner as Glen Maxwell bowls the second over.
Over 1: India 7 for 1: Rohit Sharma smashes the first ball to square leg for four as India open their scoring with a boundary. Australia start with a spin attack with Brad Hodge. Sharma is back in the dugout as Virat Kohli opens his scoring with a single from the last ball.
WICKET! Rohit Sharma 5 c White b Hodge: Poor short selection from India's opening batsman, which led to his dismissal.
HERE WE GO...!!!
2:16: Australia are out of the T20 World Cup while India have made it to the last four of the the competition.
TEAM NEWS
INDIA: Ajinkya Rahane, Rohit Sharma, Virat Kohli, Suresh Raina, Yuvraj Singh, MS Dhoni (c & wk), Ravindra Jadeja, R Ashwin, Amit Mishra, Bhuvneshwar Kumar, Mohit Sharma
AUSTRALIA: Probable Lineup: David Warner, Aaron Finch, Shane Watson, Glenn Maxwell, George Bailey (c), Brad Hodge, Cameron White, Brad Haddin (wk), Mitchell Starc, James Muirhead, Doug Bollinger
2:04: India has two changes. Ajinkya Rahane replaces Shikhar Dhawan while Mohit Sharma comes in for Mohammed Shami.
2:03: Cameron White replaces James Faulkner as it is the only change for Australia.
TOSS
Australia win the toss and George Bailey decide to bowl first
2:01: We are just less than an hour far away from the start of the play. If you have missed the action from earlier today from the first match played, Pakistan has defeated Bangladesh by 50 runs.
Good afternoon and welcome to IBTimes UK's LIVE coverage of the Group 2 clash between India and Australia from the ICC Twenty 20 World Cup. We are scheduled to get started at 2:30pm BST.