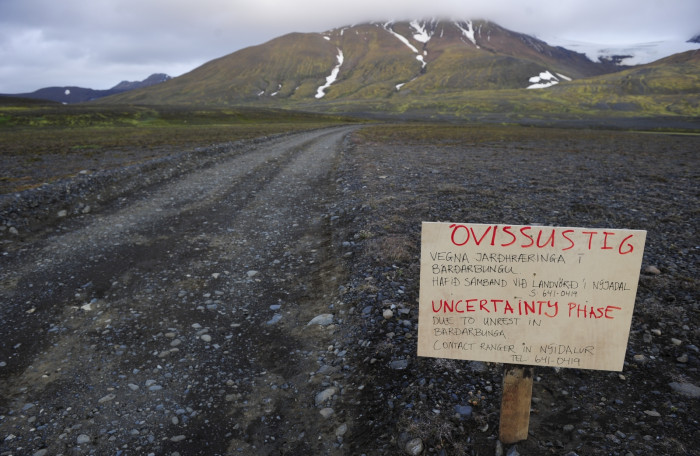 Iceland's authorities have raised the country's aviation warning code from orange to red due to increasing activity at the Bárðarbunga volcano.
A red alert means significant quantities of ash are likely to be ejected in the near future.
According to the Icelandic Met Office it seems likely there has already been "a small eruption under Dyngjujökull (glacier)."
The volcano is located beneath 150-400m of ice which is being melted by lava. Earthquake activity in the area has also increased, one tremor on Friday 22 August measuring 4.7-4.8 in magnitude.
Bárðarbunga is hidden beneath the Vatnajokull glacier in an area of Iceland with no permanent residents, but which is popular with tourists. The area has been evacuated since Wednesday, amid fears there could be a danger from flooding as a result of melted ice if there is an eruption like Eyjafjallajokull in April 2010. That caused the greatest disruption to European airspace since World War II.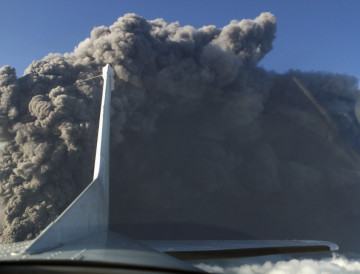 Although a no-fly zone has been declared around the volcano, it is thought unlikely that even a major eruption at Bárðarbunga would cause the same amount of disruption as the civil aviation authority relaxed the rules on flying through ash after Eyjafjallajokull.
Volcanologist Melissa Pfeffer says the amount of ash likely to be produced by the volcano would depend on the thickness of the ice above it.
"The thicker the ice, the more water there is, the more explosive it will be and the more ash-rich the eruption will be," said Pfeffer.
The prospect of another disruptive volcano has been welcomed by adventure travel company Discover the World, which has set up a "volcano hotline" for thrill-seekers wishing to sign up for a trip to Bárðarbunga when safe to do so.
Volcanoes are relatively common in Iceland as it sits on the Atlantic's mid-oceanic ridge.
In April the Cabinet Office released a report warning that a so-called "super volcano" in Iceland could pose the greatest threat to life in the UK of any natural hazard.