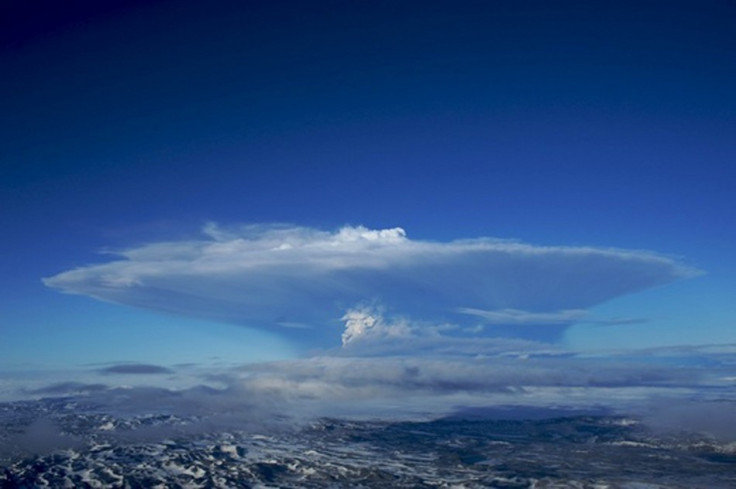 The government said this morning that the ash cloud from an Icelandic volcano would not lead to the total shutdown of airspace, despite the cancellation of over 250 flights across Europe on Tuesday morning.
"There won't be any shutdowns," Transport Secretary Philip Hammond told BBC radio. "We've moved on to a different way of working, we won't be closing airspace."
But thousands of U.K. air passengers face flight cancellations on domestic services as the ash cloud drifts southwards, threatening serious disruption to schedules.
Travel plans were affected for travellers at airports in Scotland and Northern Ireland, while US President Barack Obama was forced to amend his itinerary, flying into London earlier than planned to avoid the dense plume drifting towards the UK.
Met Office forecaster Charles Powell said the plume could hit parts of Scotland between 1am and 7am and large swaths of Britain by lunchtime. "This area of ash will start to make its presence felt across parts of Scotland and Northern Ireland and by midday I think much of the UK will be covered," he said.
But as a string of carriers announced cancellations, the transport secretary, Philip Hammond, said Britons had "to learn to live" with chaos caused by volcanic activity.
"My understanding is that we have gone through an unusually quiet period for volcanic eruptions in Iceland over the last 20-odd years and we are moving into a period when there is likely to be significantly more volcanic activity," he told Newsnight on Monday. "So this is clearly something we have got to learn to plan around. We have got to learn to live with it."
Some services have already been cancelled to and from Scotland and northern England but Hammond said they did not expect widespread disruption on the same scale as last year.
Last year, an ash plume from the Eyjafjallajökull volcano caused six days of disruption, leading to 100,000 flights being cancelled, stranding 10 million passengers and costing the industry a millions in lost revenue.
"Even though there will be ash present over last parts of the UK for parts of this week that will not stop flying activity," said Mr Hammond.
The following airlines have chosen not to fly through Scottish airspace on Tuesday:
British Airways announced it will not operate any flights between London and Scotland before 2pm
BMI said it had cancelled flights between London Heathrow and Aberdeen; Manchester and Aberdeen; Norwich and Aberdeen; Leeds Bradford and Edinburgh; and London Heathrow and Stavangar.
EasyJet has scrapped all flights to and from Edinburgh, Glasgow, Inverness and Aberdeen between 5am and 1pm today. Passengers flying to or from Newcastle, Belfast, Liverpool or Manchester are advised to check with the airline before travelling.
Flybe has cancelled all flights between Aberdeen and Birmingham, Manchester and London Gatwick; and between Inverness and Manchester and London Gatwick.
Ryanair has been ordered by Irish authorities to cancel all flights to and from Glasgow, Prestwick, Edinburgh or Aberdeen until at least 1pm.
Aer Lingus said it had cancelled 12 flights between Dublin and Glasgow, Edinburgh or Aberdeen; Shannon and Glasgow; and Cork and Glasgow.
KLM has cancelled more than 30 flights to and from Glasgow, Edinburgh, Aberdeen and Newcastle.
Loganair, said it had scrapped 36 flights due to depart between 6am and 1pm, but is still operating inter-isles flights in Orkney.