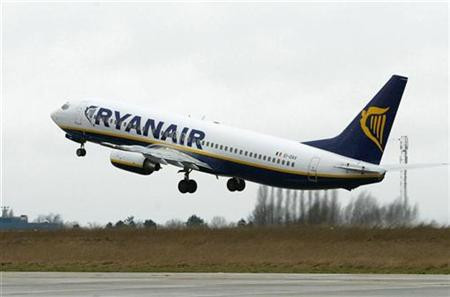 Ryanair has cancelled all flights to and from Scottish airports and been forced to back down over claims that the ash cloud has had no effect on its aircraft.
More than 200 U.K. flights were cancelled today as the ash cloud from Iceland's Grimsvotn volcano disrupted services across Europe.
The Ryanair boss, Michael O'Leary, earlier claimed that there was "no volcanic ash" and that "the sky should be immediately re-opened and planes allowed to fly".
He described information released by the Met Office in relation to the ash cloud as completely "duff".
Mr O'Leary said Ryanair had undertaken a test flight and flown at 41,000 feet for an hour and a half over Scotland landing at Prestwick and found no evidence of any volcanic ash material whatsoever. No dust or cloud was found on the airframe, the engine or the wings - not even the lowest level of ash was found.
However it was forced into an embarrassing U-turn just hours later, after the Irish Aviation Authority directed the airline to cancel all Scottish flights.
Transport Secretary Philip Hammond has rubbished Mr O'Leary's claims.
Mr Hammond said the information he had seen regarding the Ryanair flight suggested it "did not actually fly in any areas" where ash was expected.
He said that a Loganair plane which flew today had "encountered some light ash".