A hippy icon of 60s Americana is about to get a 21st century makeover, with Volkswagen confirming it will produce an all-electric version of its classic minibus.
First revealed as a concept car at the Detroit Motor Show in January, the ID Buzz will be available in Volkswagen showrooms from 2022. The company plans to sell the electric campervan in the US, Europe and China.
Volkswagen made the mass-production announcement at the prestigious Pebble Beach Concours d'Elegance in California.
Company chief executive Dr Herbert Diess said: "After the presentations at the global motor shows in Detroit and Geneva, we received a large number of letters and emails from customers who said 'please build this car'. The Microbus has long been part of the California lifestyle. Now we're bringing it back by reinventing it as an electric vehicle."
Although no new stats were given at Pebble Beach, VW has previously said the van will have a range of up to 270 miles and a "fully-autonomous" driving mode, which when engaged will let the driver rotate their seat 180 degrees to talk with passengers in the back. Although just a concept car gimmick at this stage, such a seat might seem more plausible in five years' time when the Buzz goes on sale.
For now, the company says the van will be capable of Level Three autonomy, which puts it roughly on par with the likes of Tesla Autopilot, where the car can drive itself on simple, clearly marked roads, but the driver must always pay attention and ultimately remains in control.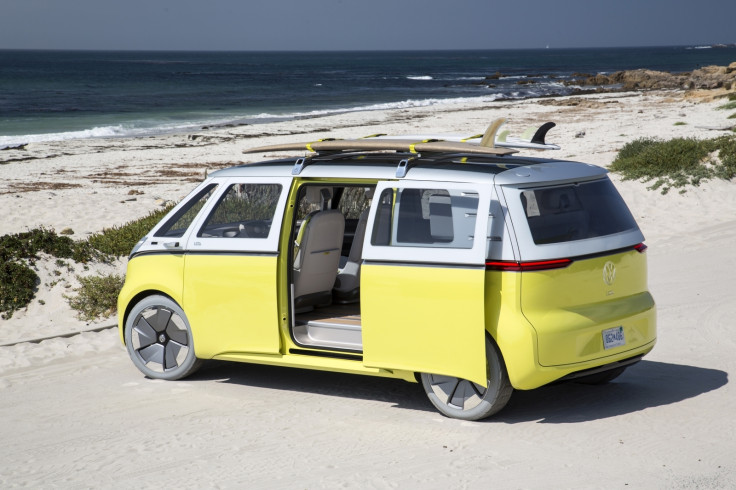 The ID Buzz features the same short overhangs as the 1960s original, thanks to its battery pack sitting in the floor and electric motors being far smaller than an internal combustion engine. VW said in January how the ID Buzz would be powered by a pair of electric motors - one on the front axle and one at the rear – with a combined power output of 369 horsepower.
VW also plans to build a commercial version of the electric van, called the ID Buzz Cargo. The two vans will form a growing range of electric vehicles produced by VW and contribute towards the company's goal of producing one million zero-emissions vehicles annually by 2025.