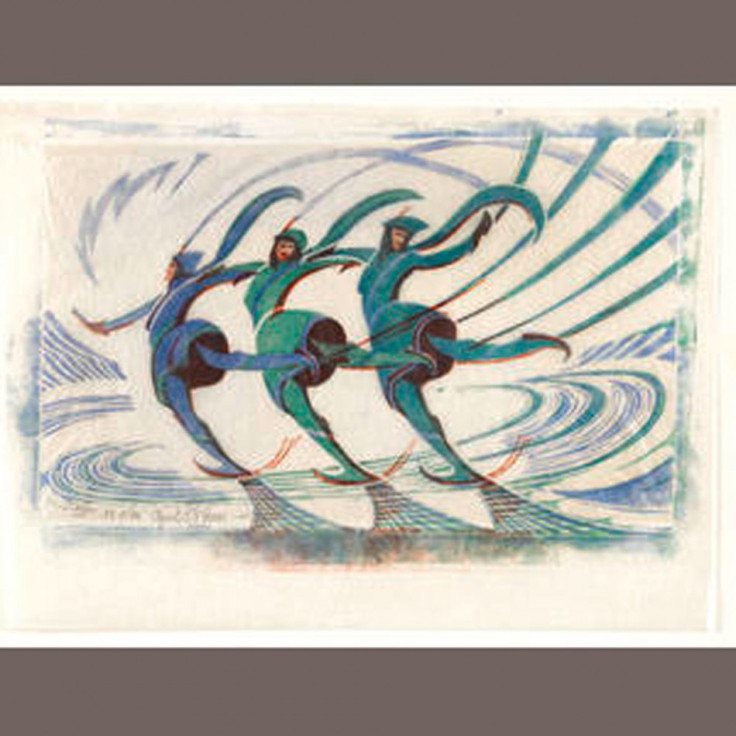 Bonhams' Print Sale section is all set for the auction of a major work by one of the most important British print makers of the 20th Century at New Bond Street London.
The auction will take place on 17 April, 2012 with many iconic works by the renowned print maker Sybil Andrews.
Speedway (1934) by Sybil Andrews, estimated at £50,000-70,000, is one of the iconic images of the Grosvenor School of printmaking which took its name from the avant-garde Grosvenor School of Modern Art in Warwick Square, Pimlico, London.
Members of the group specialised in linocuts, producing bold, fluid, swirling images which conveyed the hectic pace of life in the 1920s and '30s. For the ten years up until the outbreak of World War II they enjoyed great success not only in Britain but also in Australia, the US, China and Canada where Andrews later settled.
Andrews and her artistic partner, Cyril Power, were seen as the most technically daring and innovative of the group.
Power's The Skaters and The Runners, estimated at £10,000-15,000 each are also in the sale together with a number of works by other members of the Grosvenor School including the Swiss born artist, Lill Tschudi and its founder, Claude Flight. His familiar image of busses on a London street is estimated at £20,000-30,000.
"The work of Grosvenor School artists has a very modern esthetic which is one reason for its increasing popularity among collectors and the high prices it now commands. Power's 'The Eight', for example, established a world record for the artist of £57,000 at Bonhams in July last year," Bonhams Head of Prints, Robert Kennan said in a statement.
Another rare porcelain head, made in the Chelsea porcelain factory will be auctioned by Bonhams' British Pottery & Porcelain auction in April at 101 New Bond Street, London. The product is from the early period of the Chelsea factory, dating to 1748-50. Chelsea china is much collected and has always been expensive. The factory, situated just a stone's throw from Kings Road, was among the earliest to produce porcelain in England and its products were aimed at the very highest levels of 18th century society.